On the morning of August 16, 2022, in Hanoi, CNG Vietnam and Ha Thanh Group held the Signing Ceremony of Gas Purchase and Sale Agreement to supply compressed natural gas (CNG) for Ha Thanh ceramic tile factory in Dong Thap province. This is a promising new direction of Ha Thanh Group to improve product quality and at the same time reduce carbon emissions and protect the environment.
Attending the ceremony, on the side of CNG Vietnam Joint Stock Company, there were the presence of:
Mr. Vu Van Thuc, Director

Mr. Nguyen Nguyen Vu, Deputy Director

Mr. Hoang Thanh Van, Northern Branch Manager
On the side of Ha Thanh Group, there were the presence of:
Mr. Nguyen Duc Ha, Chairman of the Board of Directors – General Director

Mr. Mai Khac Trieu – Deputy General Director

Ms. Nguyen Thi Hang – Deputy General Director
And the presence of Heads and Deputy Heads of Departments of the two parties.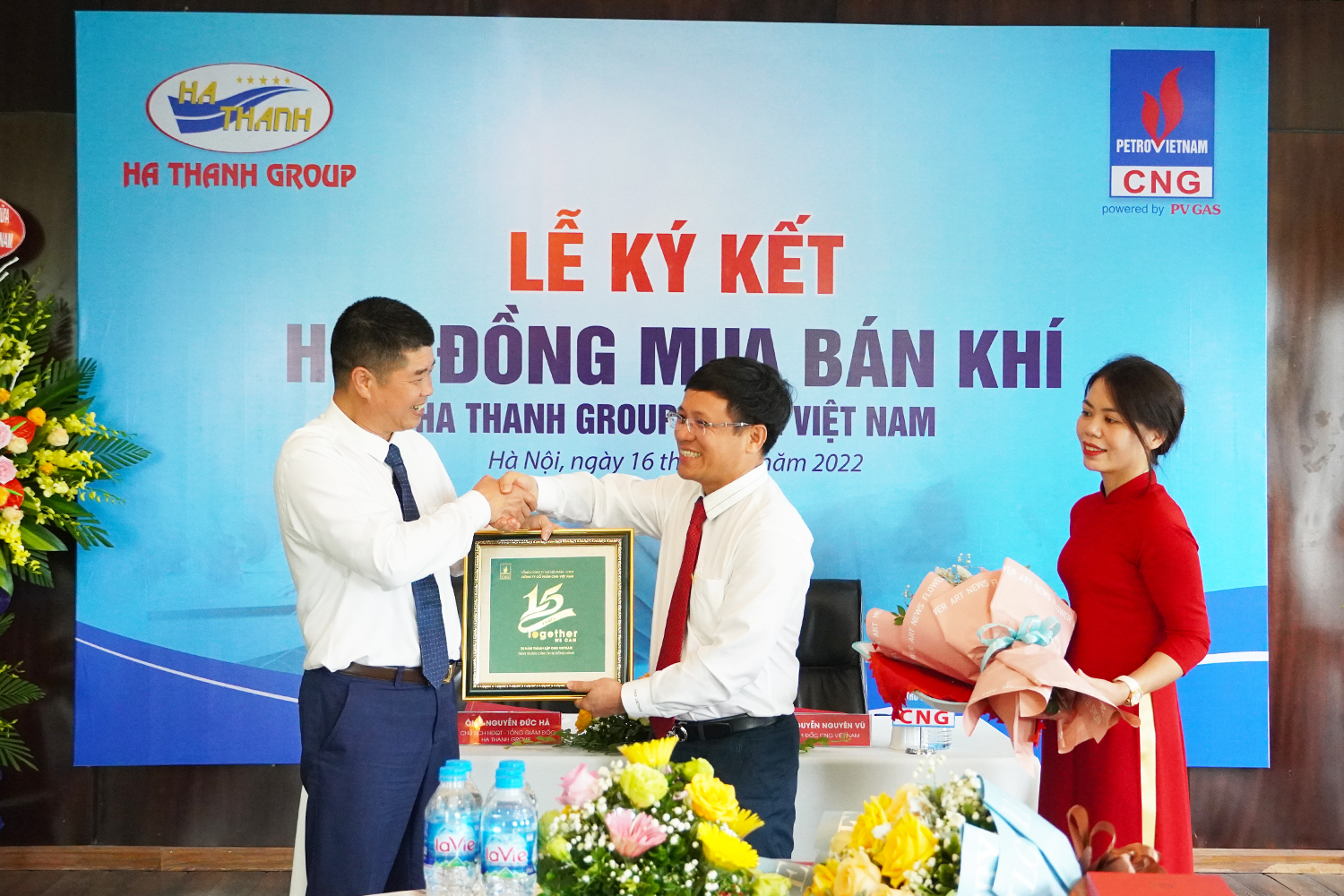 Leaders of the two parties gave flowers and gifts
CNG Vietnam Joint Stock Company is a member unit of PetroVietnam Gas Corporation (PV GAS) under Vietnam National Oil and Gas Group (PVN), for more than 15 years of operation, CNG Vietnam has provided the market with nearly 2 billion m3 of compressed natural gas (CNG) and accounts for more than 72% of the country's market share.
Ha Thanh Group, formerly known as Rural Infrastructure Construction and Development Investment Joint Stock Company, was established on November 15, 2000. Over 22 years of development, Ha Thanh Group is always proud to be a leading prestigious building materials manufacturer in the country. On the basis of a sustainable and comprehensive business development, Ha Thanh's products always aim to enhance community values by providing customers with the best products, works and services. For that reason, Ha Thanh Group decided to choose CNG Vietnam as the gas supplier for Ha Thanh's ceramic tile production instead of using coal as before, in order to bring to the market high quality, environmentally friendly ceramic tile products, ensuring the sustainable development of businesses and society.
Speaking at the ceremony, Mr. Nguyen Duc Ha emphasized that the cooperation between the two units shows great determination of Ha Thanh Group's leadership to meet the sustainable development goals and in line with the trend of minimizing carbon emissions, environmental protection. Ha Thanh Ceramic Tile Factory is the enthusiasm of the Leadership to bring high quality ceramic tiles to the Western region markets and contribute to creating jobs for local workers.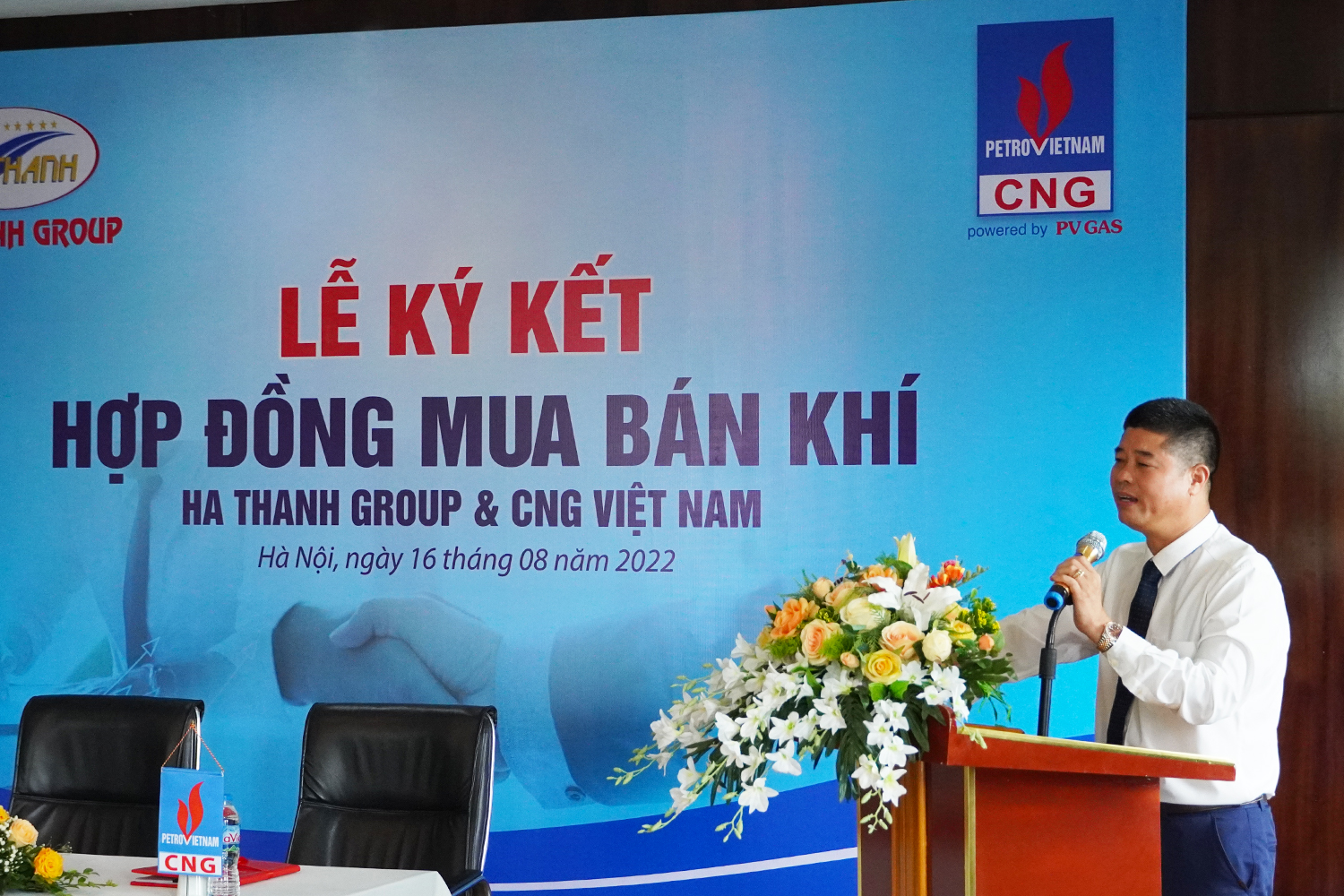 Mr. Nguyen Duc Ha – Chairman of the Board of Directors, General Director of Ha Thanh Group gave a speech
Mr. Vu Van Thuc emphasized CNG Vietnam's commitment to accompany as a partner, so that Ha Thanh Group successfully implements its development strategy with a long-term vision when it is determined to switch from coal to compressed natural gas CNG.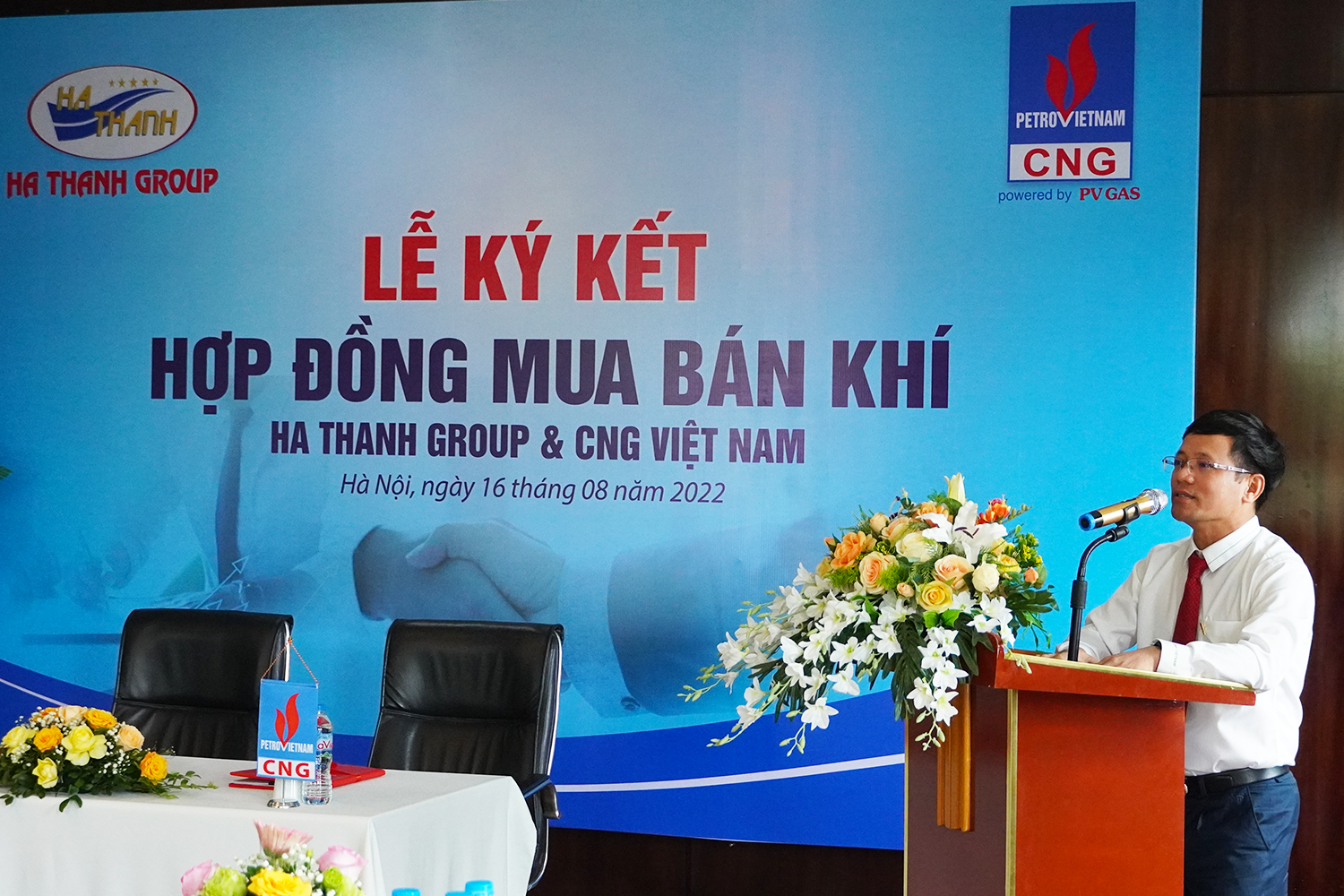 Mr. Vu Van Thuc – Director of CNG Vietnam gave a speech
The signing ceremony is a testament to the good and long-term cooperation between CNG Vietnam and Ha Thanh Group. This is also an important project of CNG Vietnam to carry out the mission of spreading clean energy, contribute to reducing greenhouse gas emissions, towards the goal of "Net Zero" as committed by Prime Minister at the COP26 conference.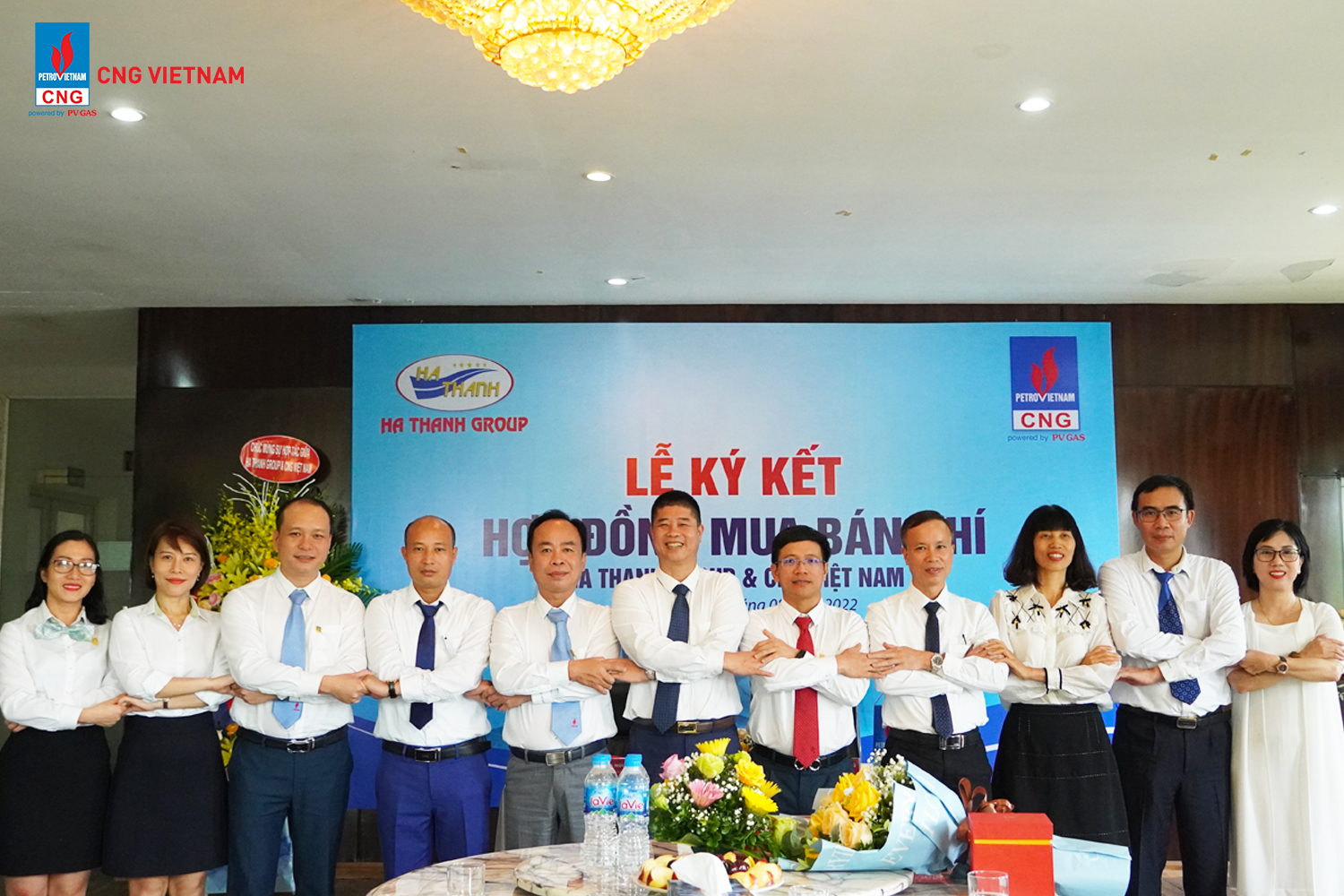 Representatives of 2 Units held hands to show cooperation