October 29, 2023, at Cai Mep Industrial Park, Phu My town, Ba Ria – Vung Tau province, Vietnam National Oil and Gas Group (PVN) and member unit Vietnam Gas Corporation – JSC (PV GAS) held the inauguration ceremony of the first 1 MMTPA Liquefied Natural Gas (LNG) Terminal in Vietnam. Prime Minister Pham Minh Chinh sent a flower basket to congratulate, Deputy Prime Minister Tran Luu Quang attended and cut the inauguration ribbon.
Attending the event, on the side of the Committee for Management of State Capital at Enterprises were Mr. Nguyen Hoang Anh, Chairman of the Committee, and representatives of leaders of ministries, central and local government officials.
On the side of PVN and PV GAS were Chairman of the Board of Directors of Petrovietnam Hoang Quoc Vuong, General Director of Petrovietnam Le Manh Hung, Chairman of the Board of Directors of PV GAS Nguyen Thanh Binh, General Director of PV GAS Pham Van Phong, along with general contractors, partners and contractors, comrades in the Board of Directors of Petrovietnam, PV GAS and members.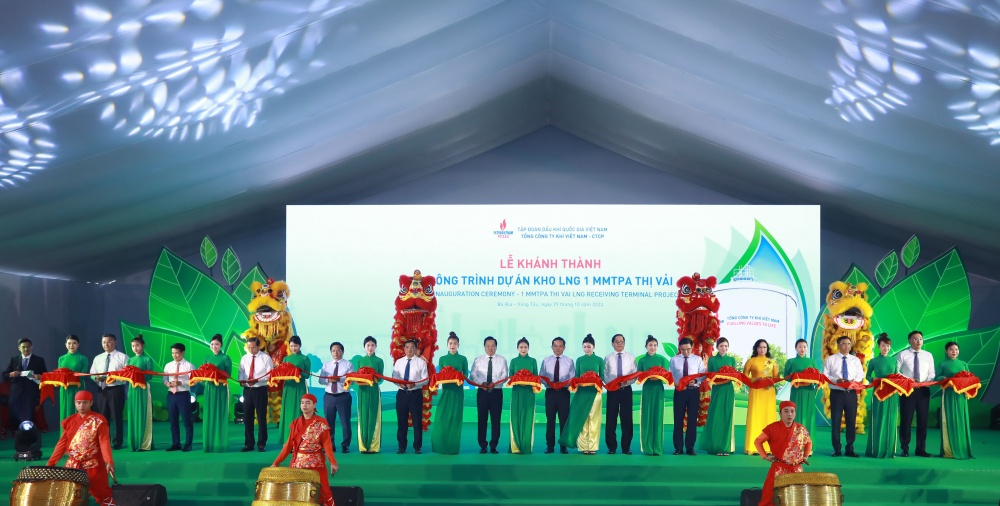 Deputy Prime Minister Tran Luu Quang and delegates cut the ribbon to inaugurate 1 MMTPA Thi Vai LNG terminal
Opening the ceremony, PV GAS General Director Pham Van Phong outlined the process of building the 1 MMTPA Thi Vai LNG terminal.
The construction of the 1 MMTPA Thi Vai LNG terminal started on October 28, 2019, with a total investment of nearly 300 million USD, invested by PV GAS, together with the Joint Venture of General Contractor Samsung C&T and Joint Stock Corporation. Vietnam Petroleum Technical Services (PTSC).
After nearly 4 years, from a land area of about 5 hectares, Vietnam's first LNG project has emerged with a port that can receive LNG vessels of up to 100,000 DWT; The tank has a storage capacity of 180,000 m3, reaching an average capacity of 1 million tons of LNG/year. Phase 2 is expected to increase capacity to 3 million tons of LNG/year.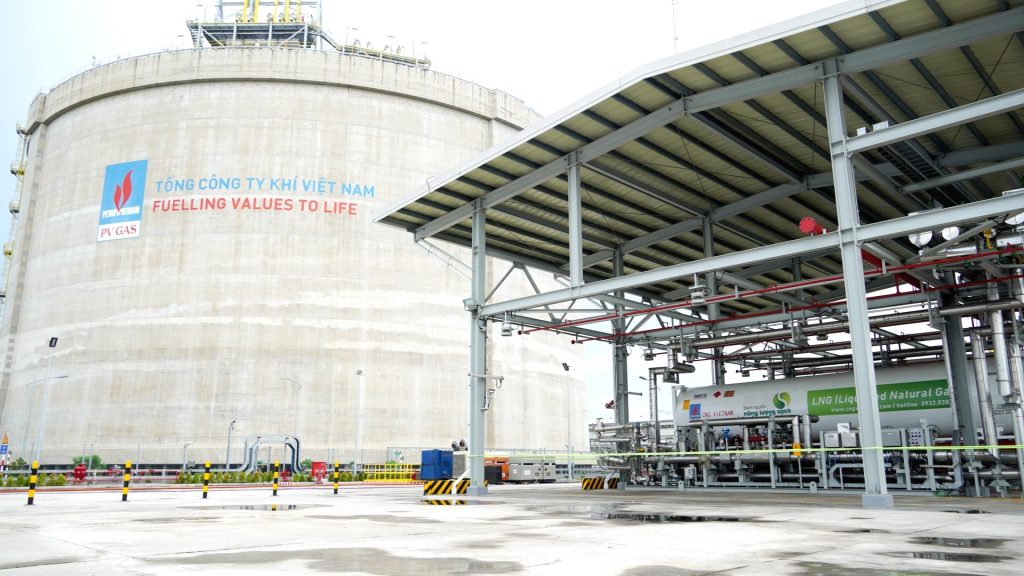 LNG Loading area for trucks by CNG Vietnam
The 1 MMTPA Thi Vai LNG terminal project was completed by PV GAS with great efforts, not only the first LNG infrastructure in Vietnam, but also a typical example of Vietnam's energy transformation. Up to now, PV GAS is the first and only enterprise in Vietnam to be granted a Certificate of eligibility for LNG export and import by the Ministry of Industry and Trade. And CNG Vietnam (a member of PV GAS) is the first company to be granted an LNG trader certificate in Vietnam. These are milestones marking a new development step for PV GAS in the field of gas and gas products business. This is the result of a synchronous and consistent direction process from the Board of Directors and the efforts and consensus of all PV GAS employees.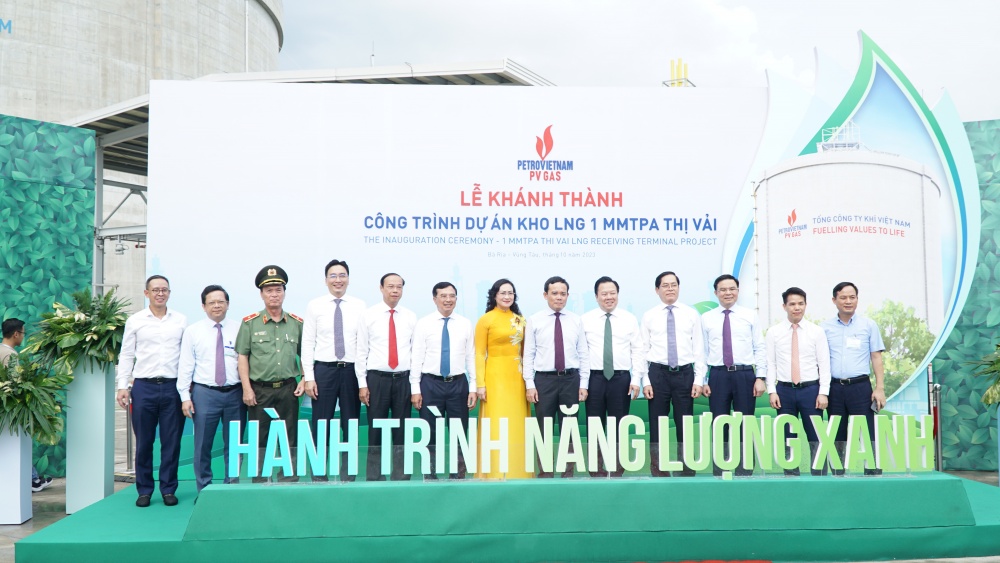 Deputy Prime Minister Tran Luu Quang and delegates took souvenir photos at the event
Speaking at the event, Deputy Prime Minister Tran Luu Quang affirmed that for many years, Vietnam has been striving to build a developed and effective energy infrastructure, which affirms the role of natural gas. Natural gas and gas products are one of the clean, safe, efficient and convenient sources of energy. With many completed gas infrastructure projects and large project clusters such as: Ca Mau Gas – Electricity – Fertilizer, Phu My Gas – Electricity – Fertilizer, as well as the upcoming completion of Block B – Ô Môn, Petrovietnam and PV GAS has and will continue to make great contributions to local development in terms of budget revenue, employment, and contributing to local economic restructuring. And today, the LNG Thi Vai liquefied gas terminal project put into operation is an important project contributing to the successful implementation of the Party and Government's policies on the orientation and overall planning of national energy development, Energy transition towards green, clean and sustainable direction.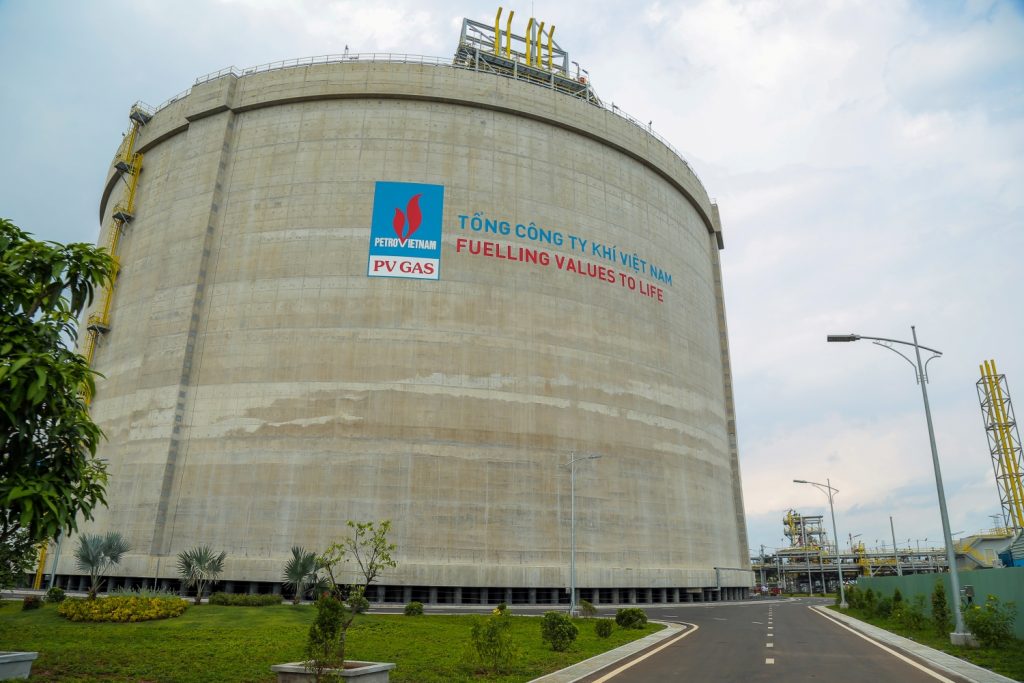 1 MMTPA Thi Vai LNG terminal
The inauguration of the first LNG terminal in Vietnam is a breakthrough mark for PV GAS's success in diversifying products, new energy, expanding markets in the global energy transition trend, contributing to ensuring energy security for development, meeting Resolution 55-NQ/TW dated February 11, 2020, of the Politburo on Vietnam's National Energy Development Strategic Orientation to 2030, vision to 2045. Through the LNG Terminal project chain, PV GAS will continue to maintain a pioneering position in implementing the "green transformation" roadmap, actively accompanying the Government to bring net emissions to zero by 2050 according to commitment at COP26 Conference. The success of the project has great support in terms of policies and mechanisms; Support and create all conditions for the leaders of the Party, State, Government, Prime Minister, Central and local Ministries/Departments/Industries.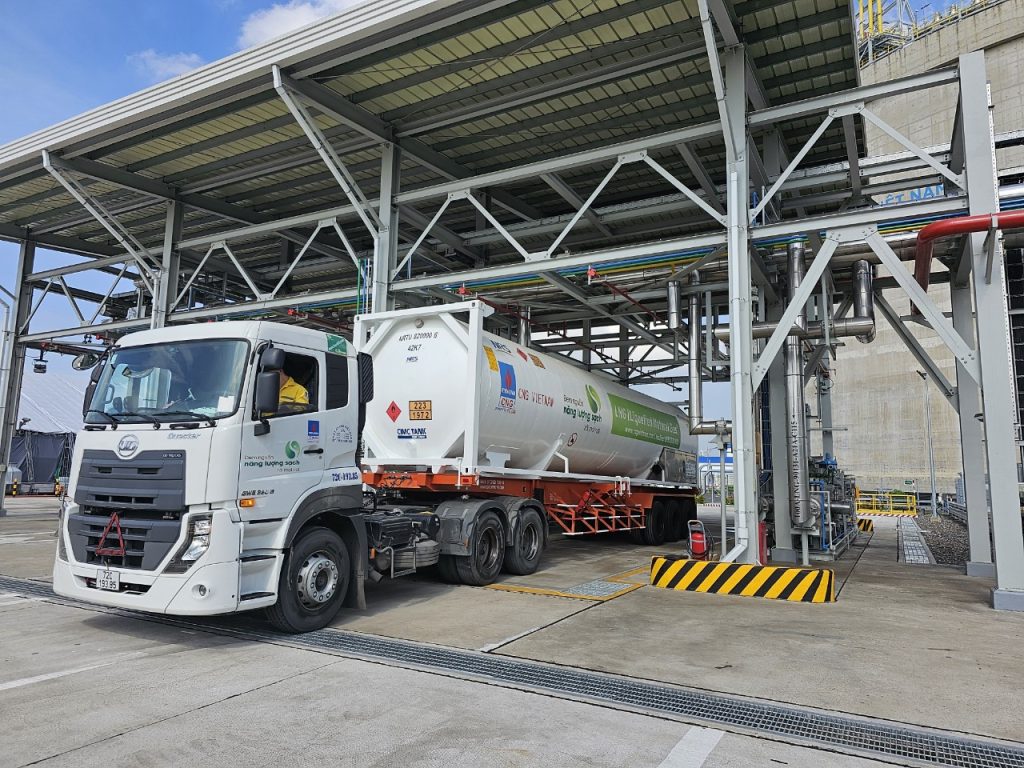 LNG Truck by CNG Vietnam at LNG loading area
Thi Vai LNG terminal is planned to meet additional energy needs for the Southeast region and compensate for the gas shortage for the Northern market in the context of gas supply at Tien Hai, Thai Binh fields rapidly decreasing while there is no LNG import terminal infrastructure in the North in the short term.
In the future, PV GAS will continue to expand its infrastructure and LNG transportation system according to the model of "Central LNG terminal (LNG Hub) providing renewable gas sources for satellite gas thermal power centers nationwide" with all three key regions in the national energy system including: Southeast, South Central and Northern/North Central. These 3 LNG Hubs will synchronously connect with the regasification pipeline system/sea LNG transportation system and LNG supply system (sea/river, road, rail) to consumers and electricity center.