Conquer new sources of energy
The idea of a gas industry has been formed since the early 90s of the 20th century to collect the associated gas flow from Bach Ho field to avoid wasteful burning offshore. Therefore, on September 20, 1990, PV GAS was established on the basis of Vung Tau Petroleum Works Management Board with the original name of Gas Company with the main dedicated task of collecting, importing and transport, storage, processing, distribution and trading of gas and gas products.
The first milestone of PV GAS was Ba Ria Power Plant generated electricity with the first associated gas flow from Bach Ho field into the national grid at 2:00pm on April 26, 1995. This event opened a new chapter for breakthrough development in the gas industry.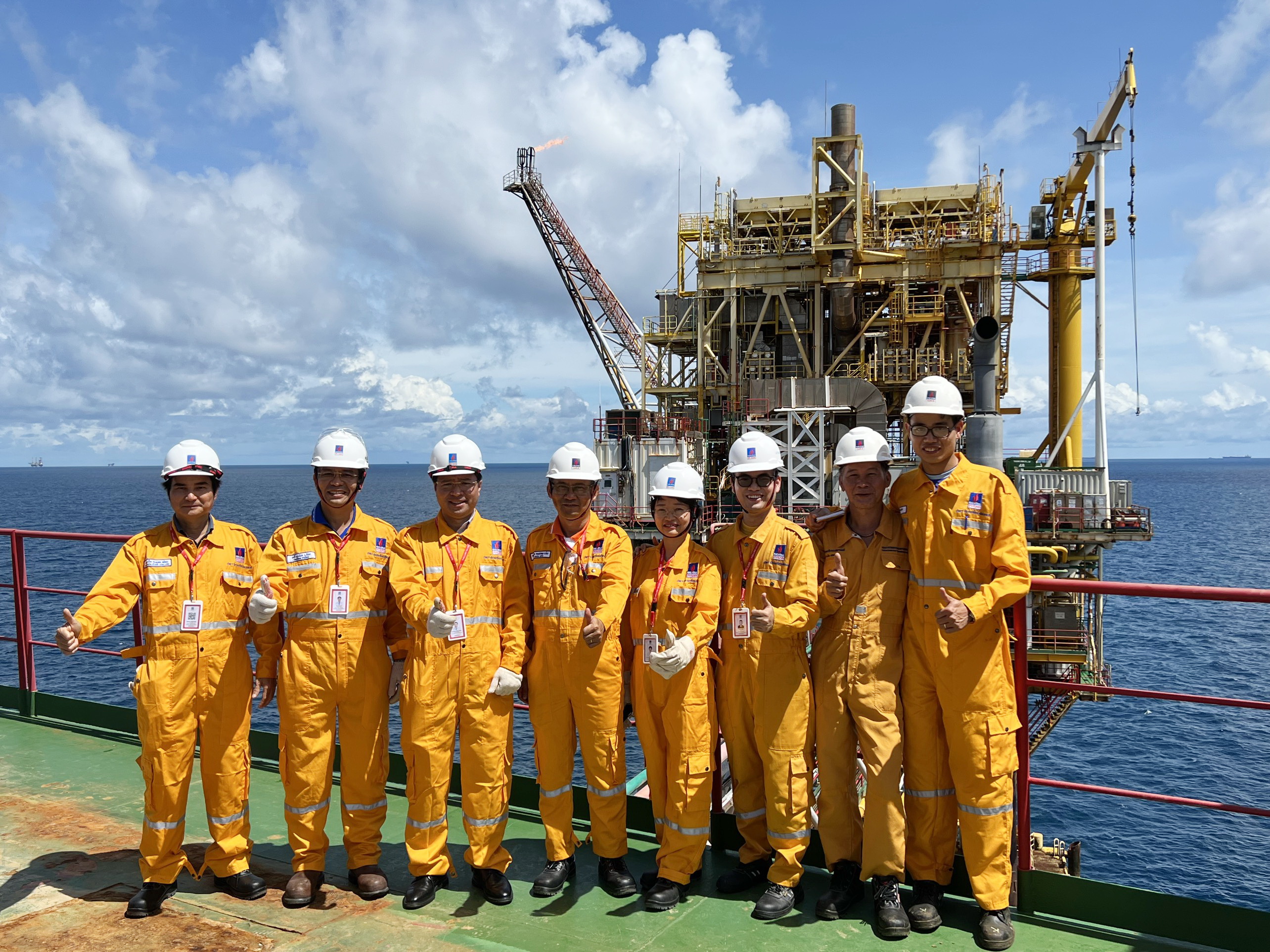 PV GAS people on an offshore gas rig
From the successful deployment of Bach Ho gas system, later expanding into Cuu Long system, PV GAS continuously operated large gas systems such as Nam Con Son gas system; PM3-Ca Mau gas system; Ham Rong – Thai Binh gas system. After that, PV GAS actively invested in new projects such as: Block B – O Mon gas project, LNG import, Su Tu Trang, Sao Vang-Dai Nguyet, Nam Con Son 2 – phase 2 projects…
In the past 32 years, PV GAS has supplied nearly 165 billion m3 of dry gas, over 21 million tons of LPG, over 2 million tons of condensate, achieving total revenue of over VND1 million billion, profit before tax reached over VND193 trillion, state budget payment of nearly VND95 trillion.
PV GAS has become a large corporation with 19 affiliated units/members, over 2,800 employees with high professional qualifications, experience, dynamism and creativity. Currently, each year, PV GAS provides raw materials and fuel to produce nearly 15% of the country's electricity output, about 70% of nitrogen demand and fuel for many industrial parks; accounting for 100% of the dry gas market share, about 70% of the wholesale market share and nearly 11% of the domestic LPG retail market share.
With great achievements, PV GAS deserves to become the largest dry gas transporter and supplier in Vietnam, the No. 1 LPG producer and trader in Vietnam. The growth of PVGAS and the gas industry is marked by determination, confidence, bravery, always adapting to innovation and aspiration to the future.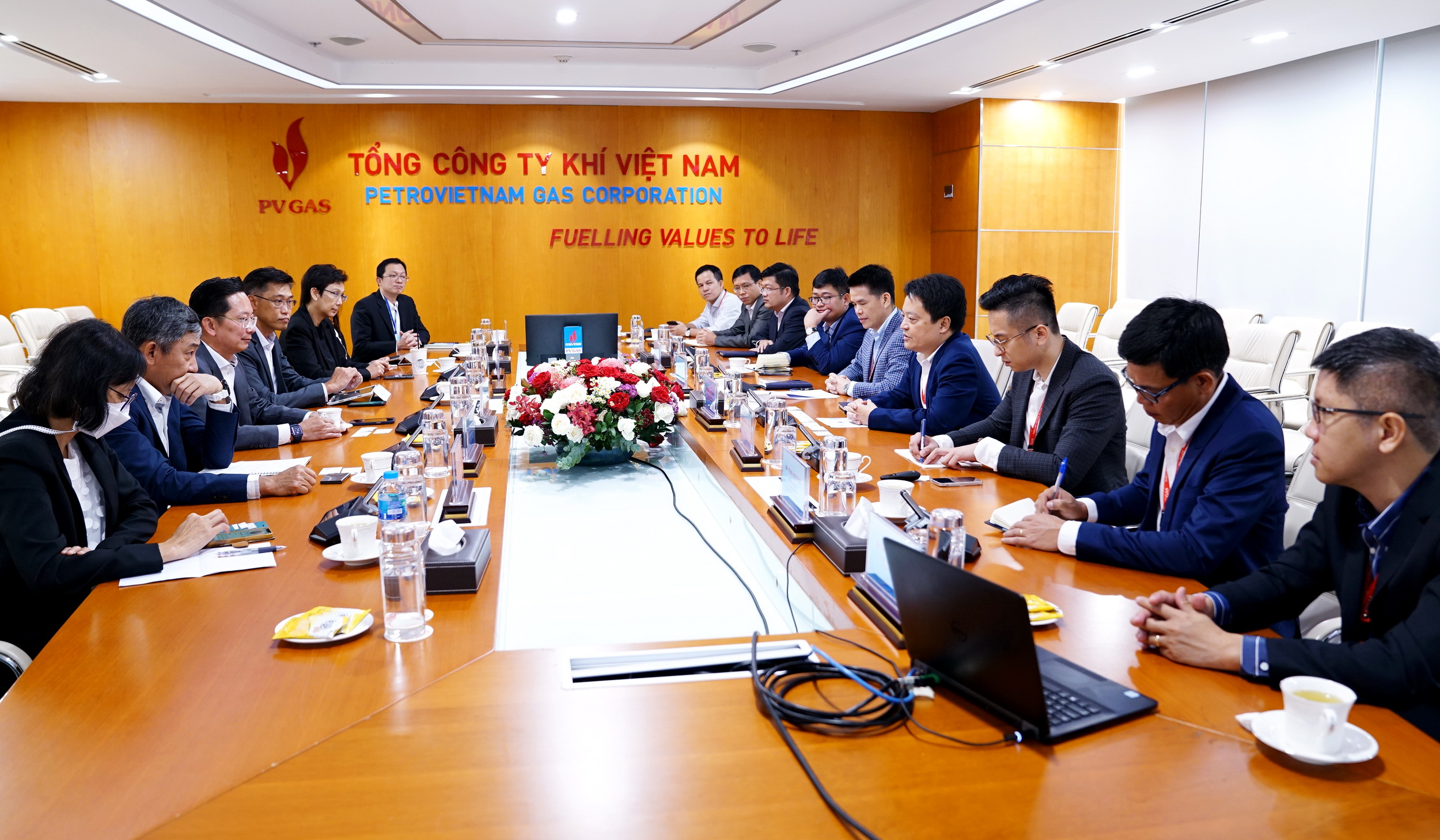 2022 is the year to strengthen connection and cooperation with partners so that PV GAS continues to promote gas production and business activities
Overcoming challenges to achieve success
It can be said that 2022 is a turbulent and volatile year for the whole world. The world's geopolitical situation is unstable due to Russia-Ukraine conflict, the global energy market and financial policy are volatile (supply chain disruptions, supply shortages, escalating prices, high inflation, signs of recession/slowing growth in major economies, high oil and LPG prices,…). These factors make businesses already struggling as a result of the Covid-19 epidemic, now face more difficulties.
In that context, PV GAS unified in leadership/direction and operation, combined many synchronous solutions from the beginning of the year to take advantage of opportunities and overcome difficulties and obstacles, including: carry out the gas dispatching, mobilization, and optimal operation; strengthen market development activities, including promoting LPG trading and gas supply for industrial customers; strengthen governance, strongly apply information technology, reduce costs; strictly implement the Covid-19 prevention; effectively implement restructuring, personnel organization, mechanisms and policies,…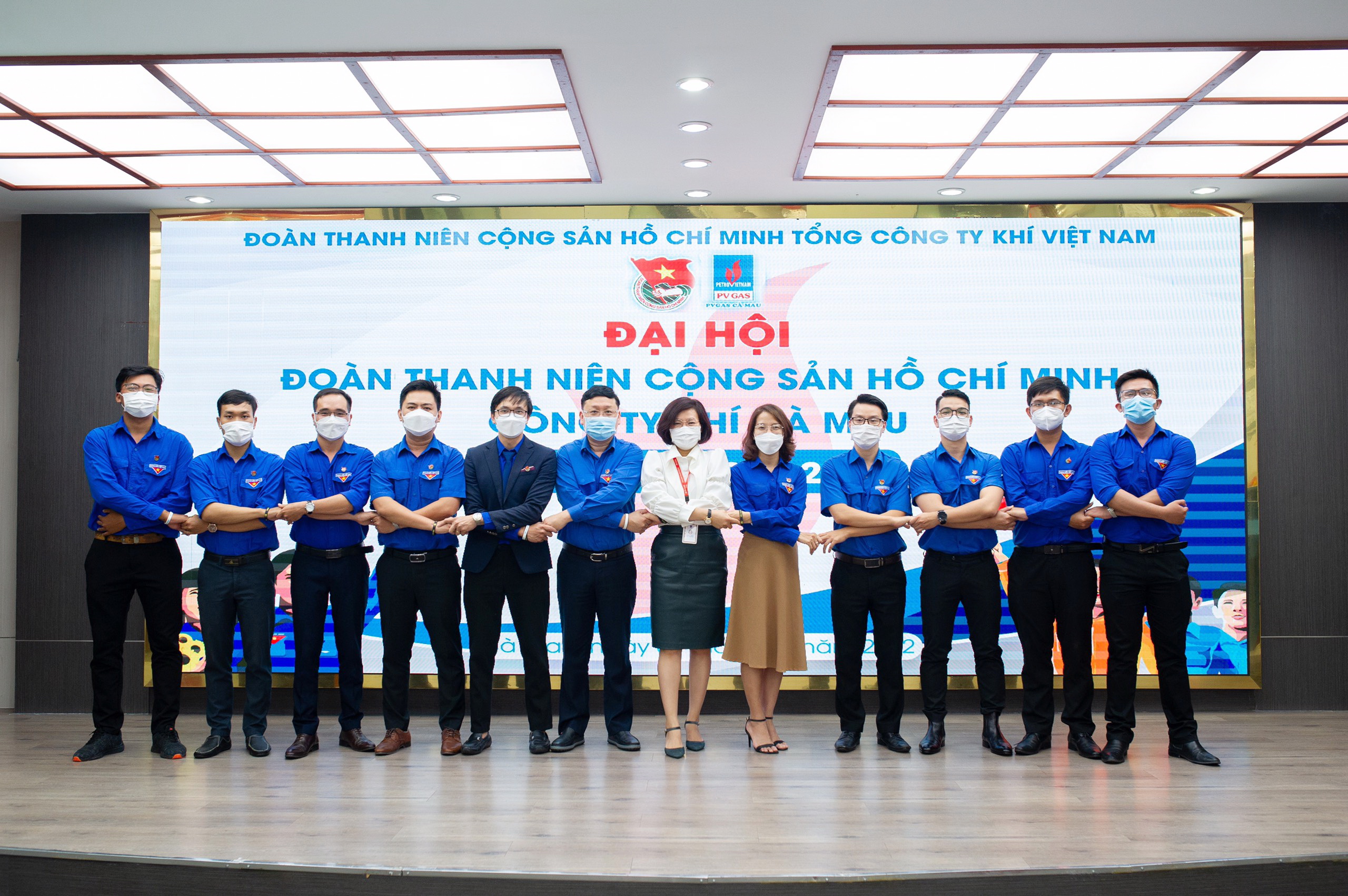 The solidarity spirit is instilled in the young generation of PV GAS
As a result, in the first 8 months of 2022, PV GAS closely followed the set plans and tasks, minimizing the impact from adverse factors; exceeding the plan for condensate output (162% of the plan) and LPG trading volume (120% of the plan), maintaining the national LPG wholesale market share of nearly 70%; financial targets exceeded the plan at a high level and increased sharply compared to the same period last year (total revenue was over VND69 trillion, reaching 130% of the plan; pre-tax profit was over VND13 trillion, achieving 219% of the plan, after-tax profit was over VND10 trillion, reaching 219% of the plan, paying over VND5 trillion to the state budget, reaching 197% of the plan); Construction investment projects were actively implemented, sticking to the plan and it is expected that in 2022, PV GAS will complete the construction of a 1 million ton LNG storage project at Thi Vai, supplementing the gas supply of about 1.4 billion m3 for the market each year.
Before the 32nd anniversary of establishment, PV GAS received the Forbes award "Top 50 Best Listed Companies in Vietnam in 2022" – "Top 5 Revenue and Profit" for 10 times in a row; at the same time, PV GAS was also honored in many polls of leading enterprises in Vietnam. This is an important milestone, reflecting the stable development of the company during the recent decade.
Explaining the reason for its continuous success and development over the past three decades, PVGAS's leadership affirmed: The favorable factor and solid potential of PV GAS is that the Corporation always receives the attention, support and closely directed by Vietnam Oil and Gas Group – PetroVietnam with the view that the gas industry is one of the three development pillars of PetroVietnam. Furthermore, PV GAS has a team of highly qualified officers and employees with many years of experience, mastering most of the stages of the gas industry, including the areas that were previously only performed by foreign experts/personnel. PV GAS is also a continuously developing and effective enterprise since its establishment, creating confidence in attracting skilled workers and investors; has strong financial foundation, continuously ranked and appreciated by prestigious domestic and regional organizations; and with the possession of a relatively complete infrastructure system for the gas industry in Vietnam at all stages with a total asset value of more than USD3.7 billion,…, PV GAS is confident and determined to promote the achievements, continuously innovate to adapt, continue to develop sustainably the gas industry in Vietnam, and enter a new era of development of the country.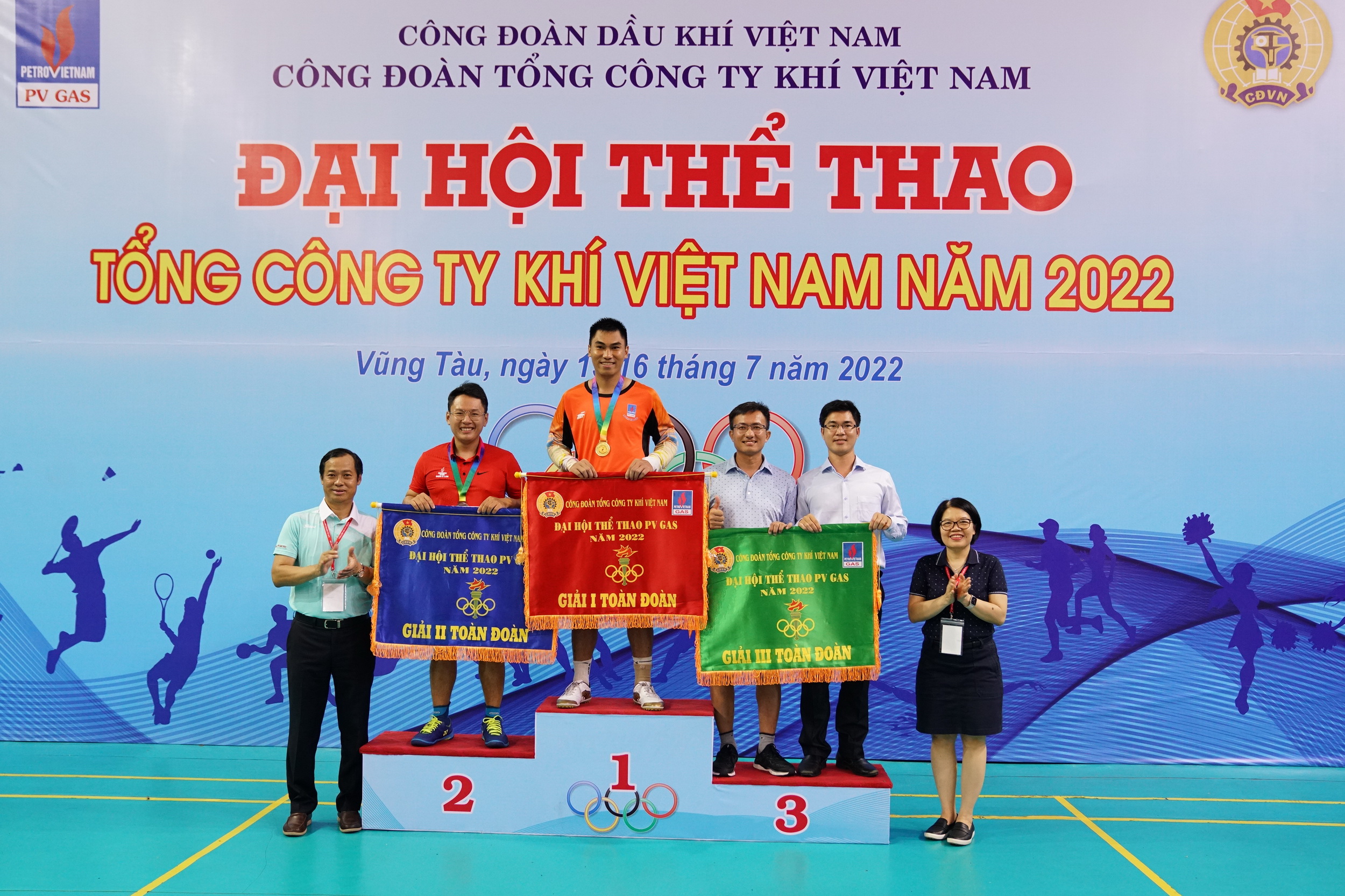 PV GAS Sports Festival is an event to celebrate the 32nd anniversary with many outstanding impressions
Persistent and consistent with Three breakthrough solutions
Continuing the mission of bringing energy from nature to serve the development of business community, people and the country, PVGAS determined and steadfastly developed with three breakthrough solutions in terms of mechanisms and policies; personnel and market development to conquer new heights.
Mr. Nguyen Thanh Binh – Deputy General Director of PV GAS said, Resolution 55 of the Politburo on the strategic orientation of Vietnam's national energy development to 2030, with a vision to 2045 as well as Decision No. 2233 of the Prime Minister on approval of the Project on development of a competitive energy market to 2030, with a vision to 2045 clearly stating the objective of firmly ensuring national energy security; restructuring state-owned enterprises in the energy industry towards focusing on core activities and strengths, with emphasis on promoting the leading role of capable and experienced specialized state-owned enterprises such as PVN, PVGAS.
To carry out these tasks, the Resolution of the 10th PV GAS Party Committee Congress, term 2020 – 2025 set out the development orientation of the Corporation in the coming time as "Developing a strong and effective PV GAS with high competitiveness, complete operation in all stages of collection – transportation – processing – import – export – storage – service – trading in gas and gas products, participating in upstream investment activities. Continuing to effectively perform the leading role in the gas industry in Vietnam, contributing to ensuring national energy security and deep international integration".
According to Mr. Binh, promoting the key and leading role of State-owned enterprises specialized in the gas industry in order to contribute to ensuring national energy security, PV GAS is oriented to continue to participate extensively in (investment and business) all stages of the value chain of gas/LNG/gas products from upstream – midstream – downstream in the country and step by step reaching out to the world to ensure proactive, optimal and sustainable development in production and trading of gas/gas products. Along with that, PV GAS continues to focus on investing in building optimal gas industry infrastructure on the basis of promoting available resources and experience; Play the key role in investing and importing gas and LNG for electricity production and other consumers; Diversify gas sources, strengthen processing/deep processing, diversify gas products to increase the value, output of gas and gas products…
The world is always moving with advantages and disadvantages, opportunities and challenges intertwined like inseparable links, and also a driving force for development. PV GAS collective is always united, ready to face challenges, open up opportunities, continue to maintain the leading role in Vietnam Gas Industry, firmly move forward into the future.