From 27 April 2021 to now, the 4th wave of Covid-19 in Ho Chi Minh City was divided into 3 phases. In particular, the period from 15 June 2021 to now has super-fast infection, more than 5,000 F0 after only 20 days, Ho Chi Minh City has become the place with the highest number of Covid-19 cases in the country. (According to VNA 7/7) As of 6:00 am on 7 July 2021, the whole country recorded 277 new cases, bringing the total number of Covid-19 cases in the country to 18,889 cases in 55 provinces and cities, including the key production and business areas of the Company such as Ho Chi Minh City, Dong Nai, Binh Duong, Long An, Binh Thuan, Binh Phuoc, Ba Ria – Vung Tau…
In the context of a particularly serious and unpredictable epidemic situation, the Company's Committee for Covid-19 Prevention and Control requested units and divisions to tighten and strengthen effective epidemic prevention measures; promptly update and deploy anti-epidemic scenarios and plans with the spirit of "fighting the epidemic like fighting the enemy", determined not to stop production, protect the health of workers, contribute to the whole country in implementing good dual goals "production and epidemic fighting".
In order to ensure continuous production and prevent the maximum risk of infection and disease transmission in the Company's ​​production and business areas, starting from 18 June 2021, the Company's Director requested Phu My Branch to activate level 2 of epidemic prevention, prepare to respond to level 3 when eligible. As soon as the activation order was issued, Phu My Branch quickly deployed working plans for the target group at Phu My mother station, customer's PRU stations and central stations.
Accordingly, Phu My Branch has organized a safe area for Zone 0 (1) personnel who both isolate and work in 12-hour shifts, 14 consecutive days at the Branch, including staff operating the mother station, drivers, dispatchers, drivers and dispatchers of LPG SE, maintenance and repair staff at mother station, PVS security staff. The plans for operation, transportation, dispatching, maintenance, repair, and protection at the mother stations are updated and fully complied with the 5K principle.
Customer's PRU stations are also enabled to have a 14-day rotating work plan for relevant personnel when working at the station. Phu My Branch Operations Department is the focal point to coordinate with customers to make a detailed plan when the customer activates level 2 to ensure compliance with the actual local epidemic situation and production plan of the two parties, complying with regulations and measures to prevent epidemics during the working process inside customer's factories.
In addition to the logistics, suitable living and working conditions for employees to work in 14-day rotation, the Company's Management, Branch also regularly encourages and timely implements the regimes/policies to support and motivate employees to work safely, to ensure production safety at the unit.
The coordination and exchange of information in epidemic prevention with PetroVietnam Gas Corporation, Center for Disease Control of Ba Ria – Vung Tau Province, local medical facilities in the Company's operation areas is also carried out regularly, promptly and effectively through the following activities: weekly Covid-19 quick test for drivers in order to comply with local and customer's epidemic prevention regulations. PCR testing for high-risk employees; the first phase of vaccination against Covid – 19 gives priority to the direct production workforce and employees who regularly work with customers and execute projects.
Despite many difficulties caused by the Covid-19 epidemic, especially when some localities with customers receiving CNG gas implemented social distancing according to Directives 15 and 16 of the Government, in the first 6 months of 2021, all aspects of CNG Vietnam's activities are very positive, exceeding production and business targets, ensuring safe operation, stable and continuous gas supply for customers. With the drastic and timely direction of the Company's Management, efforts and consensus of the employees, CNG Vietnam is determined to join hands with the whole country to win the Covid-19 epidemic.
(1) Zone 0: The area where operational activities are carried out to maintain the main technological and production processes, affecting the continuous gas supply.
Some pictures of working in Zone 0 area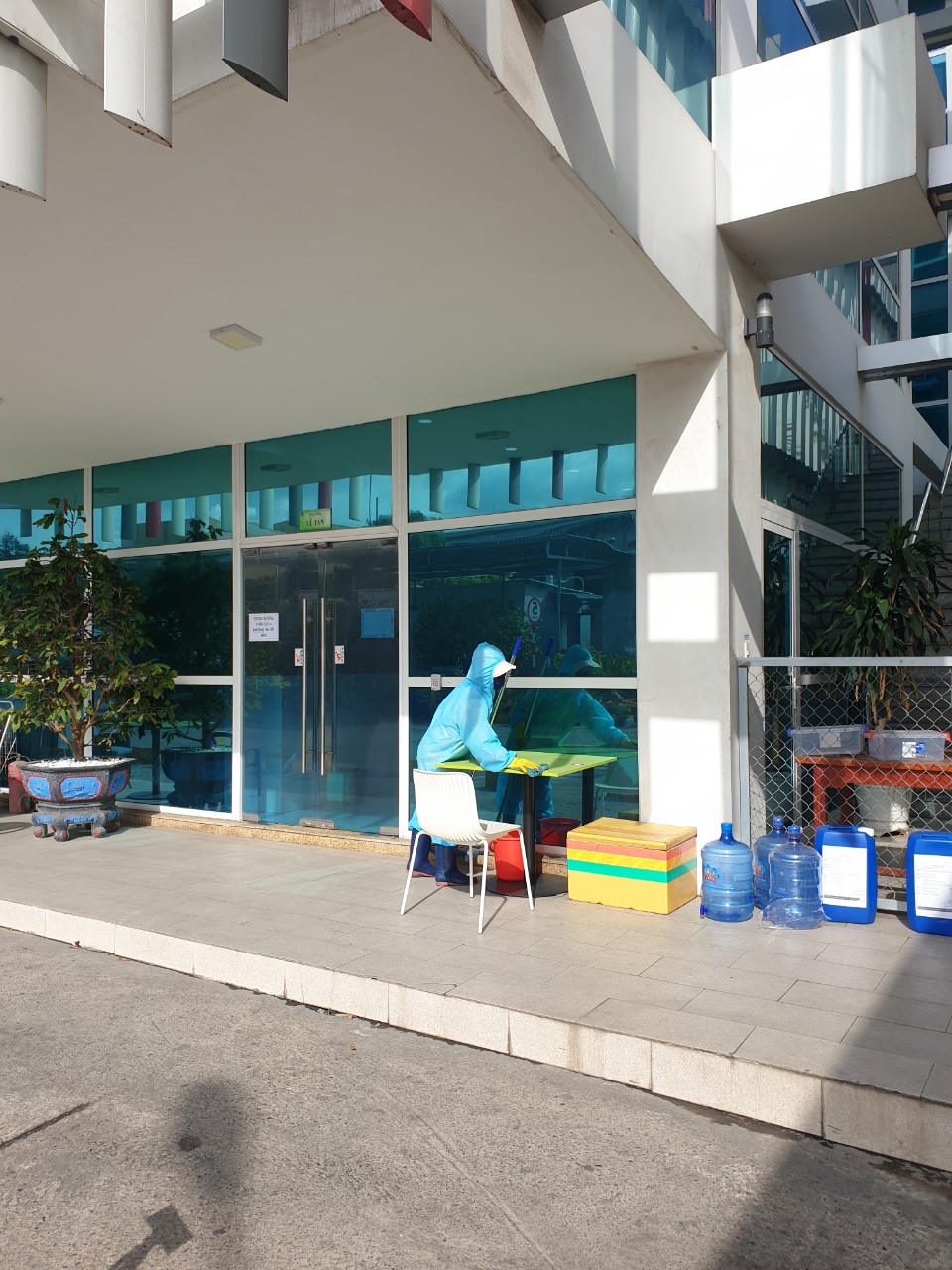 Industrial hygienist disinfects at Zone 0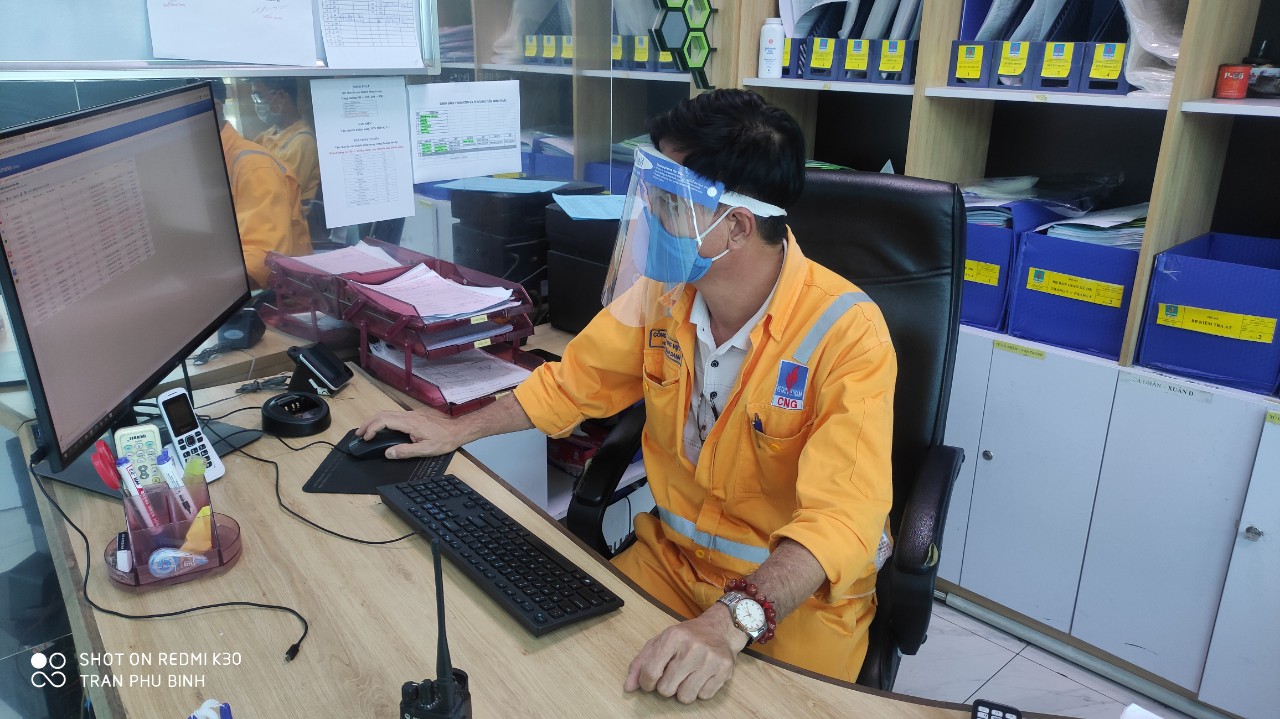 Transport dispatching room staff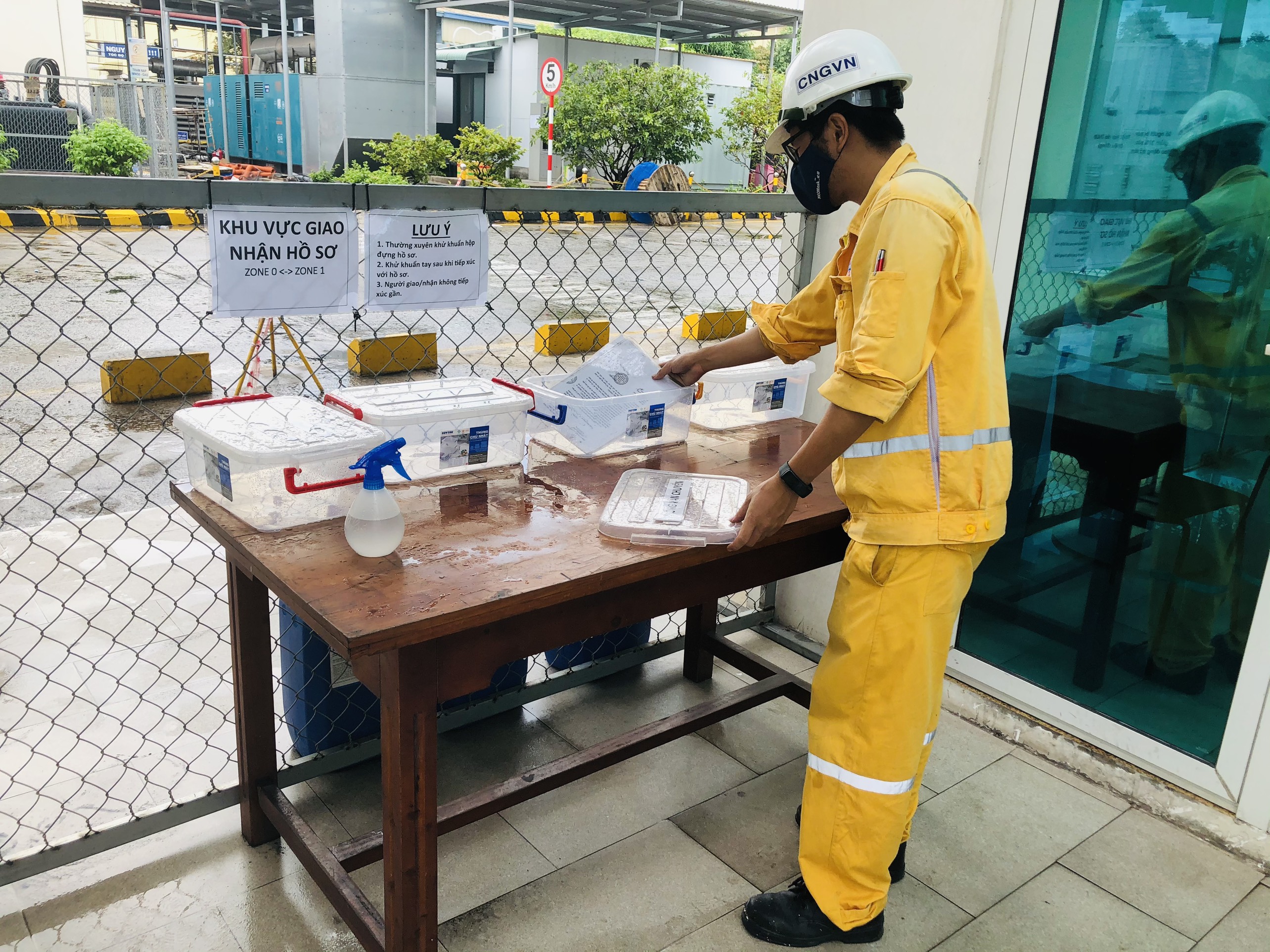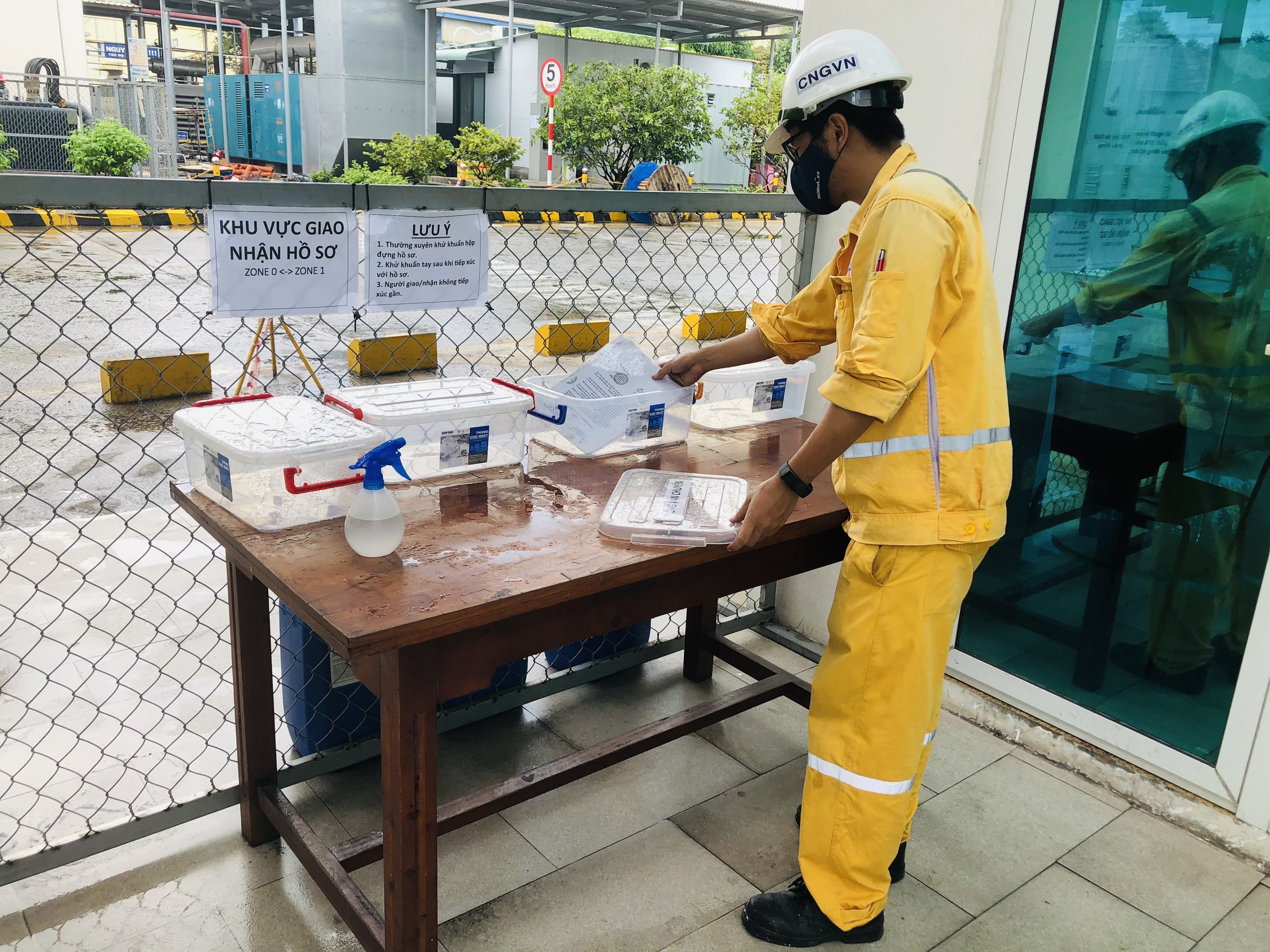 The document delivery area between Zone 0 and Zone 1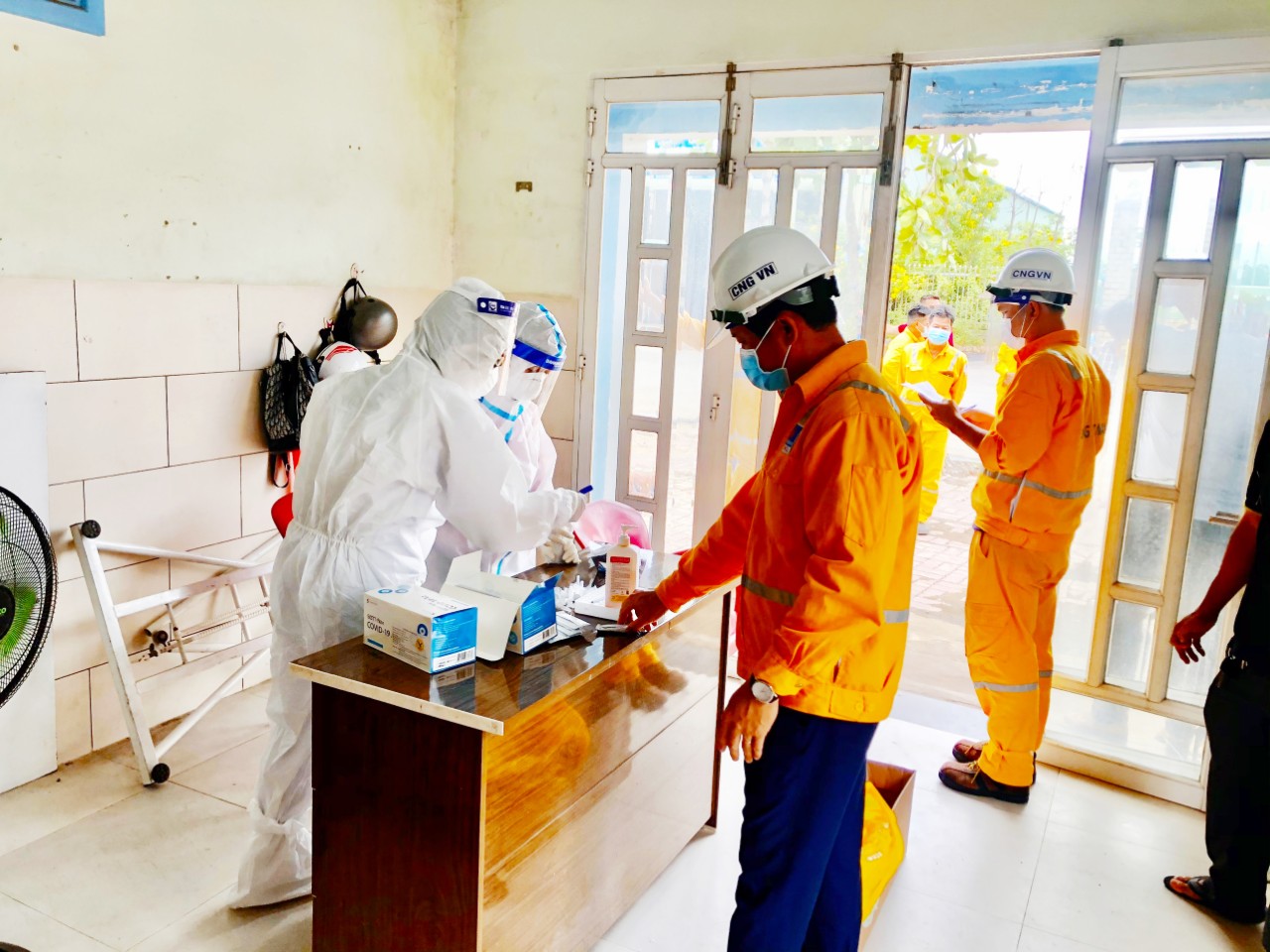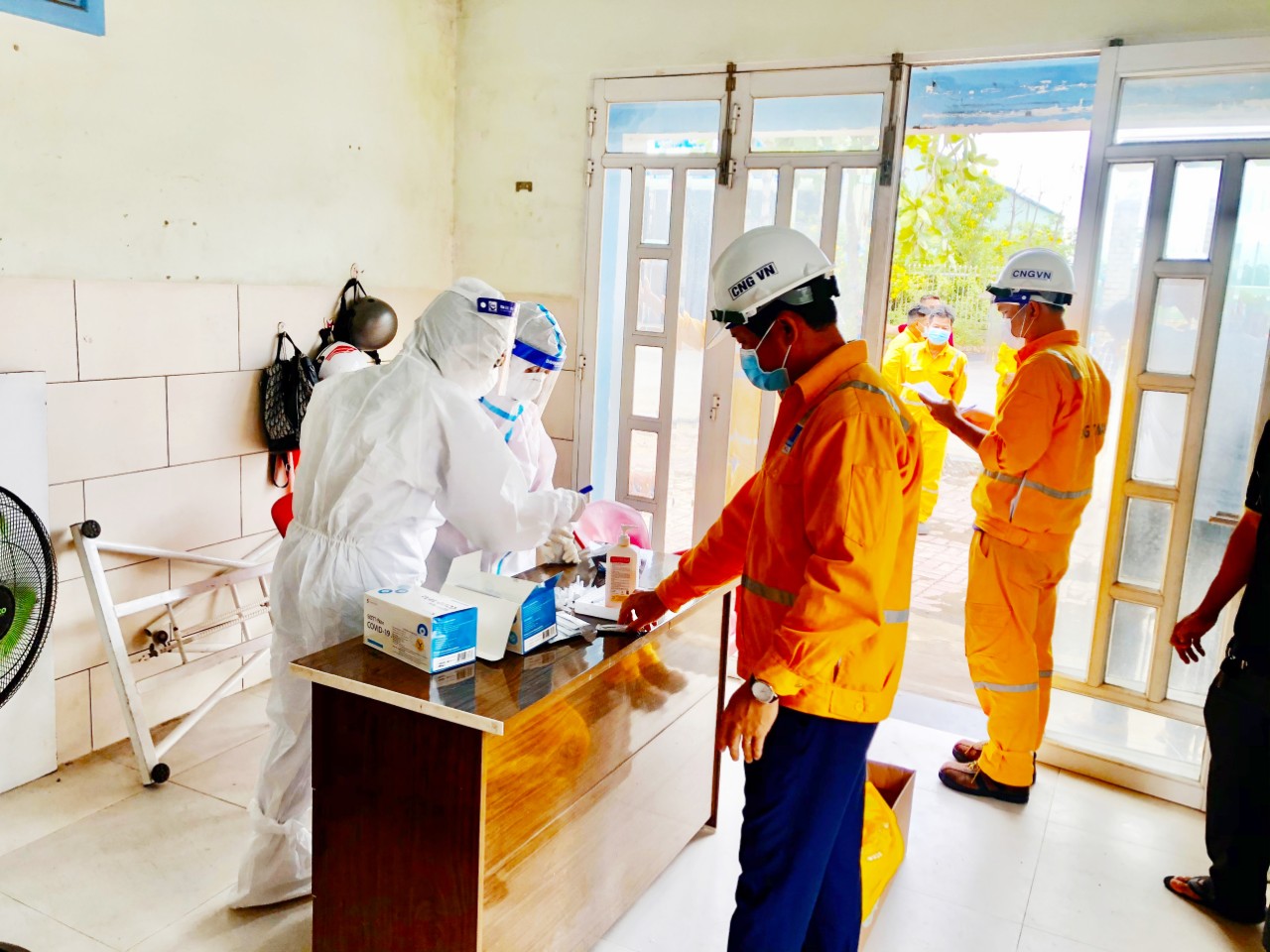 Covid-19 quick test for drivers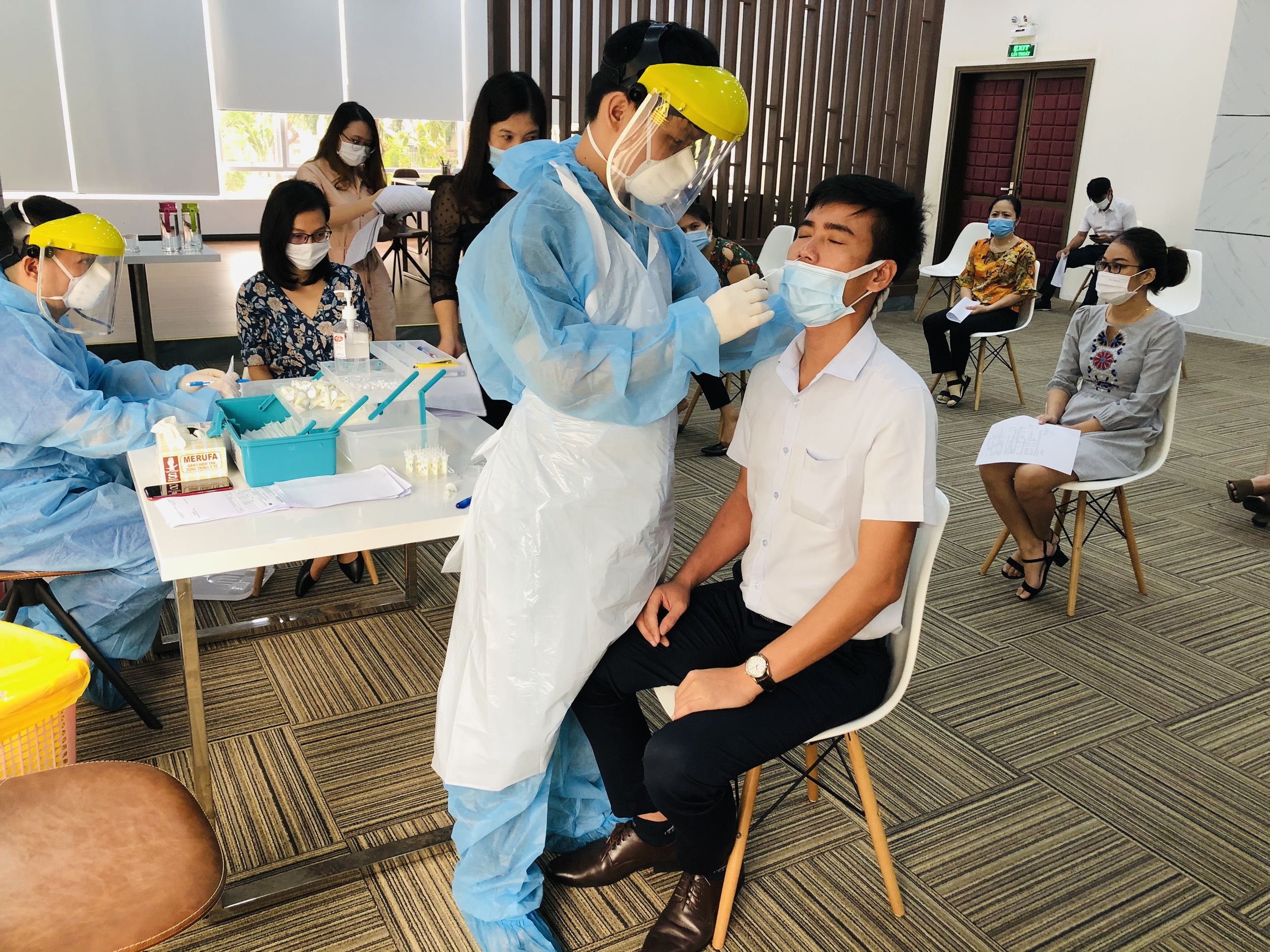 Covid-19 quick test for office staff