Taking place on July 29, 30 and 31, 2022, the Oil and Gas Industry Sports Festival 2022 – the Southern region is a meaningful activity, responding to the 13th Petroleum Culture Week, to celebrate the 47th anniversary of establishment of Vietnam Oil and Gas Group (September 3); celebrating 93 years of establishment of Vietnam General Trade Union (July 28), 31 years of establishment of Vietnam Oil and Gas Trade Union (December 16).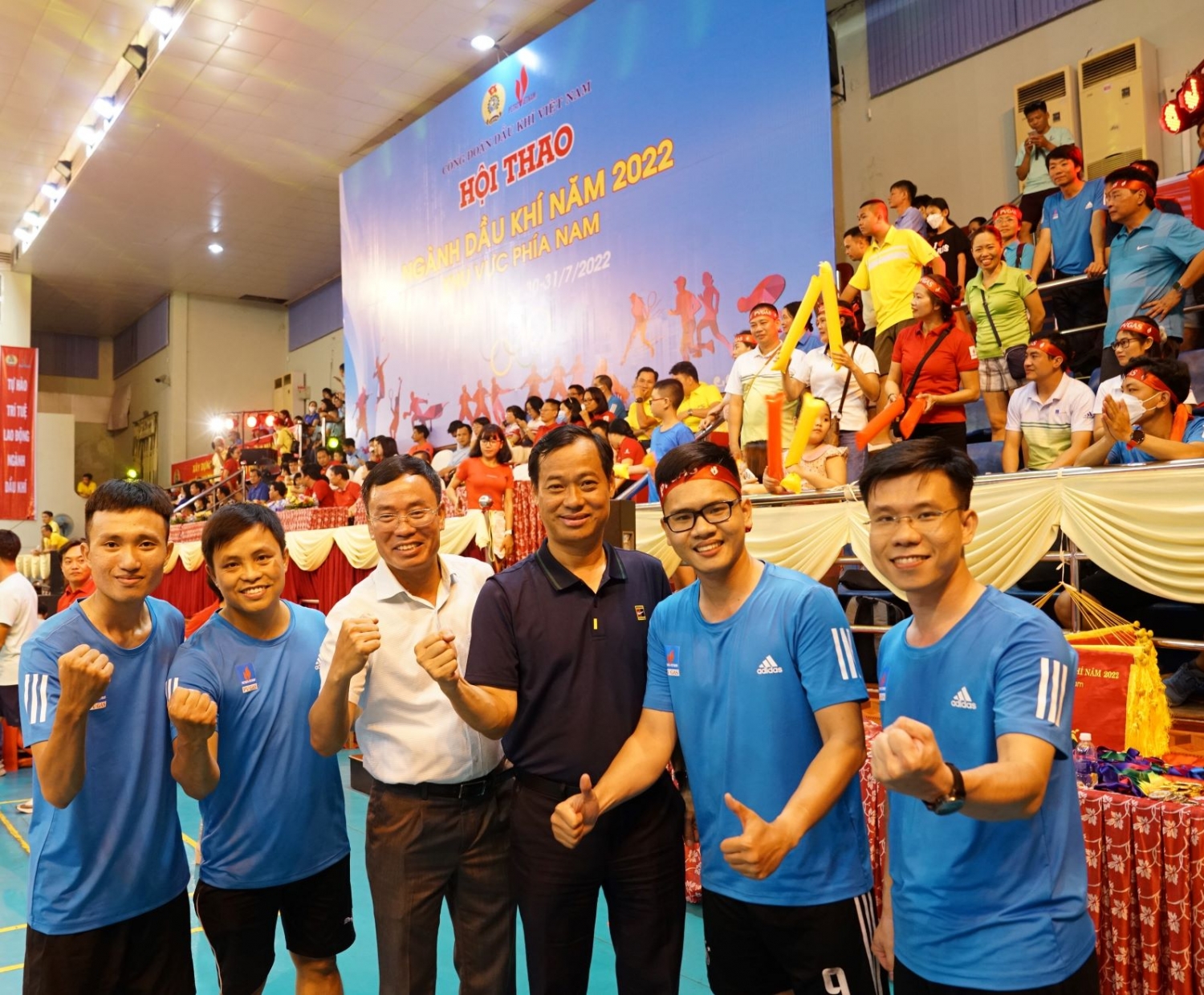 Comrade Trieu Quoc Tuan – Member of the Board of Directors and Mr. Tran Xuan Thanh – Chairman of PV GAS Trade Union encouraged and supported PV GAS sack jumping team on the opening day of the Sports Festival.
Attending the Sports Festival were Mr. Nguyen Ba Hung – Chairman of Trade Union of Ba Ria – Vung Tau province; Mr. Tran Quang Dung – Member of the Standing Committee of the Party Committee, Head of Communication and Corporate Culture Department of Vietnam Oil and Gas Group (PetroVietnam); Leaders of the Committees/Party Committees, Veterans Association, Youth Union of the Corporation.
On the side of Vietnam Oil and Gas's Trade Union, there were Comrade Nghiem Thuy Lan – Member of the Executive Committee of Vietnam General Trade Union, Chairman of Vietnam Oil and Gas's Trade Union; Mr. Vu Anh Tuan – Vice Chairman of Vietnam Oil and Gas's Trade Union; Leaders of the Group's member units, Chairperson/Vice Chairperson of affiliated trade unions and the presence of nearly 1,600 athletes from 25 units in the Group attended the 2022 Oil and Gas industry sports festival for the southern area. Mr. Tran Xuan Thanh – Chairman of PV GAS Trade Union, representative of the Management of PV GAS and leaders – chairpersons of the Trade Union of PV GAS affiliated units have always closely followed, encouraged PV GAS Sports Team in every subject, for every competition.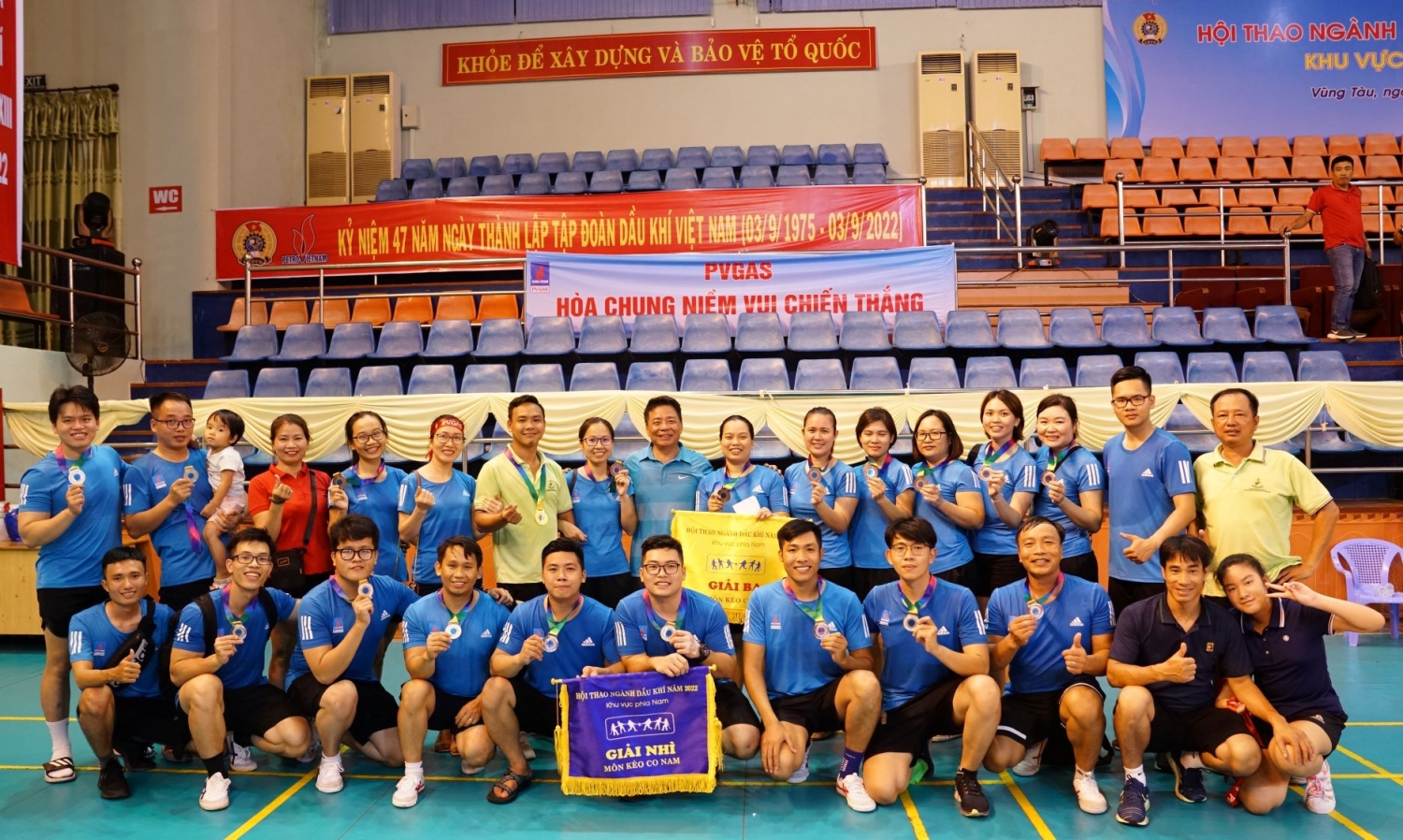 PV GAS men's and women's tug of war teams won 2 important medals on the first day of competition
Speaking at the opening of the Sports Festival, Chairwoman of Vietnam National Oil and Gas's Trade Union, Nghiem Thuy Lan emphasized that the Southern Region Oil and Gas Sports Festival 2022 aims to spread and respond to the campaign "All people exercise following the example of Great Uncle Ho", thereby contributing to promoting the spirit of labor emulation, completing production and business tasks in 2022, as well as creating a playground, creating conditions for employees of the units to exchange, learn and maintain sport movement, strengthen solidarity and mutual understanding among units in the oil and gas industry.
The Chairwoman also affirmed that this is an annual and traditional activity of the Oil and Gas industry, a "spiritual food" to encourage the oil and gas workforce, arousing the tradition of solidarity and creativity, promote the pioneering role and responsibility in each union member and employee in performing well all assigned tasks; promoting the construction and implementation of corporate culture, creating a civilized, happy and safe working environment.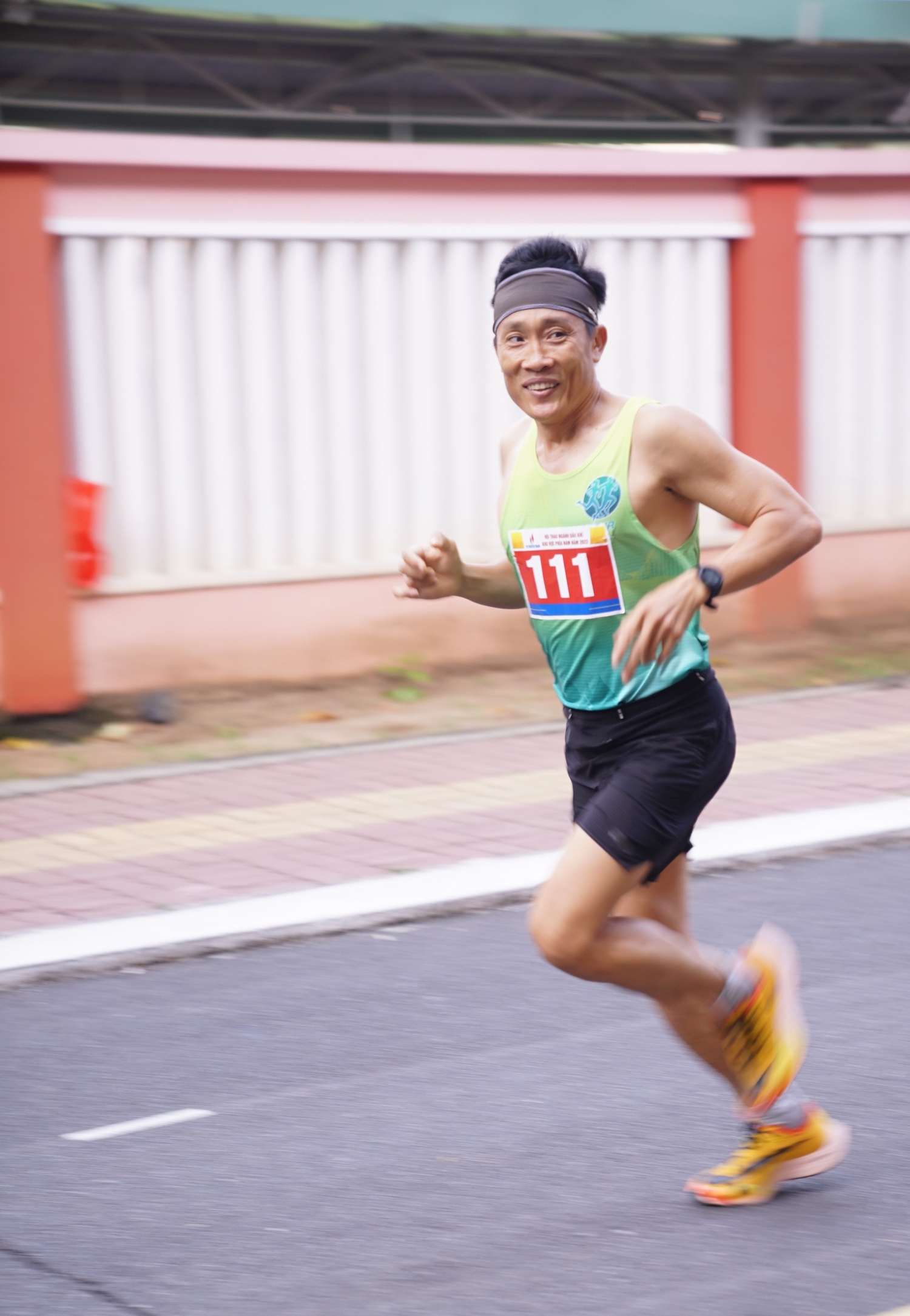 Smile on the 5,000m race of gold medalist Nguyen Huu Thuc
Following the call of the Leaders of Vietnam National Oil and Gas's Trade Union, all athletes participating in the Sports Festival upheld the sports spirit of "Solidarity – Honesty – Nobility – Progress"; won high achievements in competition, against all negative manifestations contrary to the spirit of sport and exercise of the Oil and Gas industry.
After 2 years of fighting against the COVID-19 pandemic, Oil and Gas employees can live in a jubilant atmosphere and strong sportsmanship. The Oil and Gas Industry Sports Festival 2022 is really an inspirational event, spreading the spirit of solidarity, good traditional values of the Oil and Gas industry in the new period, for the Oil and Gas workers to train, improve good health following the example of Great Uncle Ho.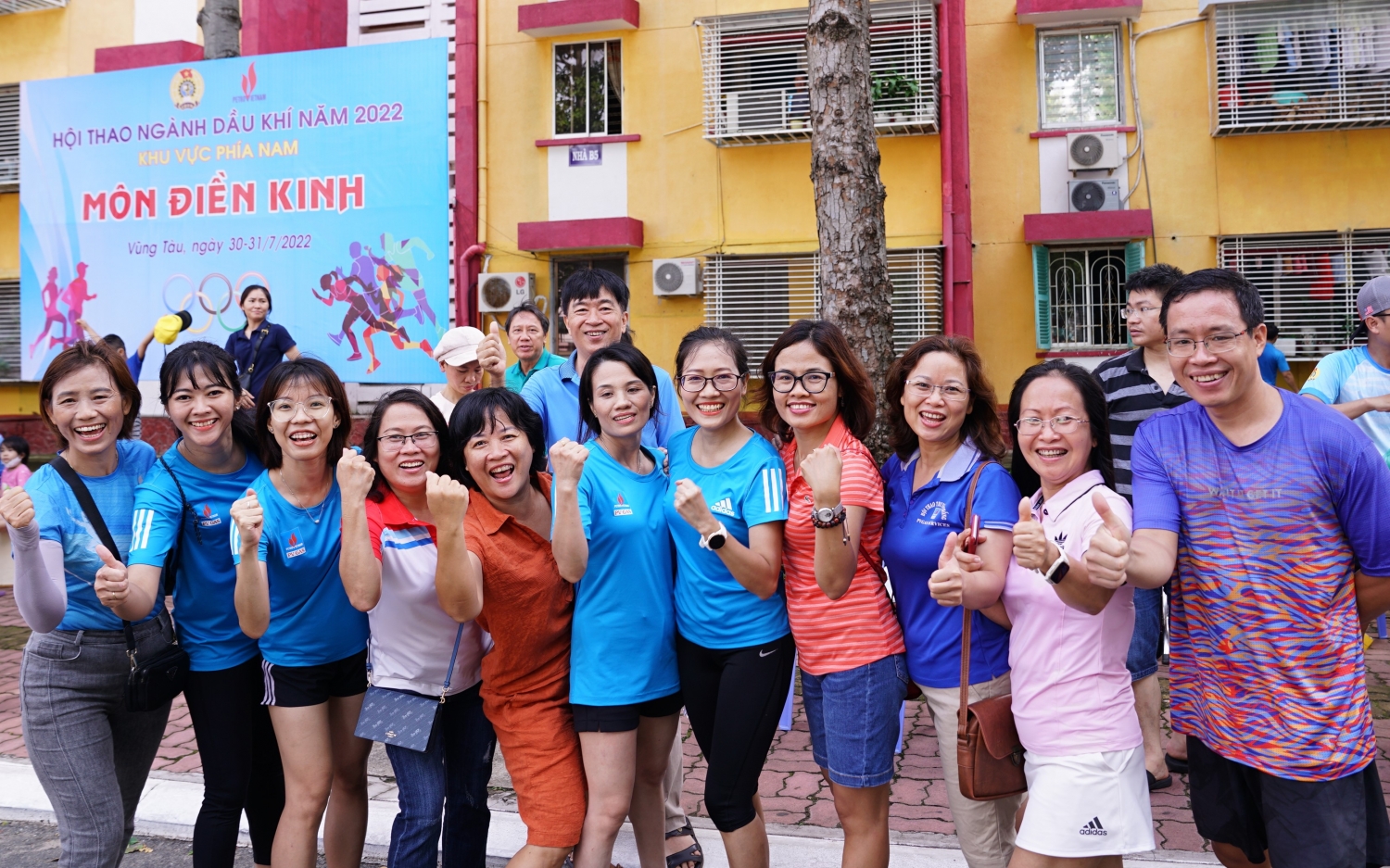 Joy of sharing in the Athletics competition
The Sports Festival includes 10 sports: football, tug of war, badminton, table tennis, tennis, track and field, swimming, chess, traditional chess, and sack jumping. The competition took place with excitement from athletes and fans, creating a series of competition days with intense races, creating many surprises. 25 teams include 1,600 athletes of different ages and working positions. There were 5 teams of athletes participating in all 10 sports, including Vietsovpetro, PTSC, PVFCCo, PV GAS, PVOIL; in which Vietsovpetro has the largest number of athletes with 216. PV GAS sports delegation includes 134 athletes.
Opening the Sports Festival, teams competed in the tug of war game with determination and excitement with the participation of 15 men's and 12 women's teams and 280 athletes. PV GAS men's and women's teams both made an impressive debut, which is one of the beautiful surprises of tug of war, when showing a determined and skillful team, with a smooth and unified combination, making this type of sport a success. This collective sport is noticed and appreciated. In the end, the tug of war "unlocked" 1 silver medal for men and 1 bronze for women for PV GAS.
In the attractive, interesting and extremely thrilling track and field, there were 8 competitions, distances, division of men and women with 4 age groups, attracting 230 athletes to participate. PV GAS' lineup at the athletics tournament includes famous athletes who have won many industry and local awards… but there are also young faces participating for the first time; and overall, not a "super strong" team in previous tournaments. However, 2022 has become a highlight on PV GAS's running track when both men and women surpassed each other, creating 2 days of many medals for the team with a total of 2 gold, 5 silver, and 7 bronze medals.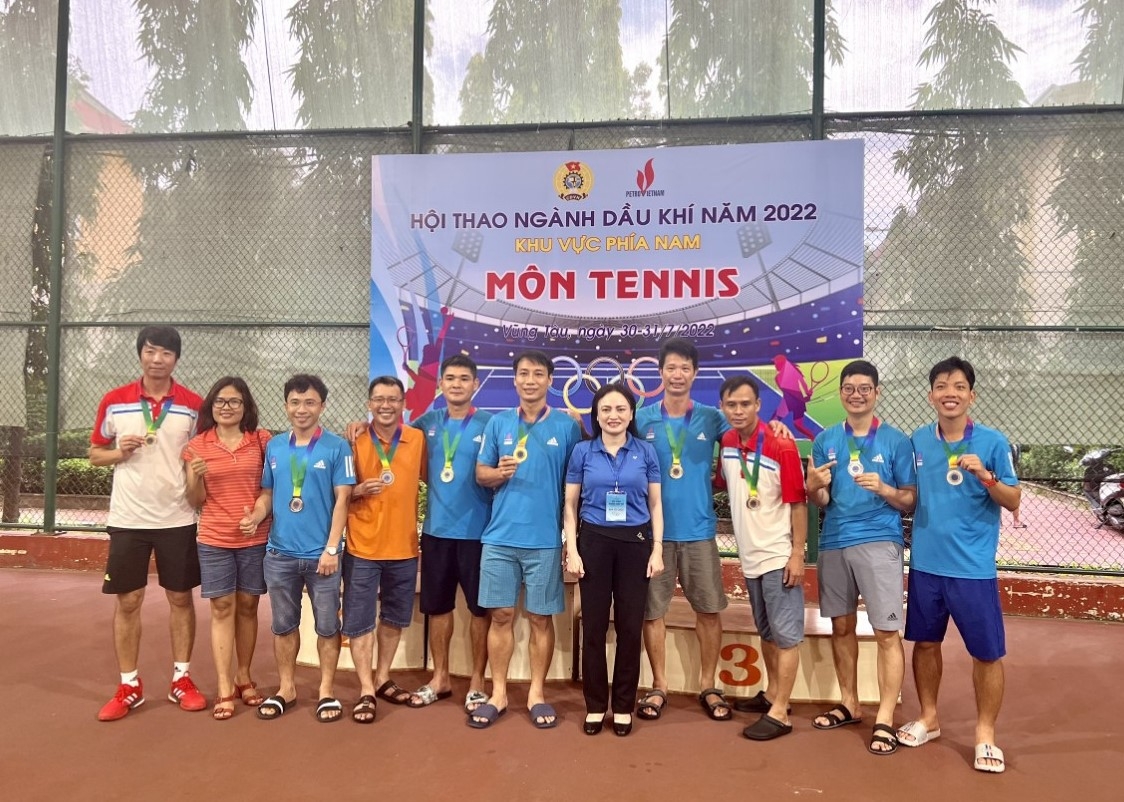 Chairwoman of Vietnam Oil and Gas's Trade Union congratulated PV GAS Tennis team on winning many important medals
Badminton, Tennis, and Table Tennis have attracted a large number of 480 athletes participating in 60 events. Swimming includes 160 athletes participating in 10 events. Chess and Traditional Chess: 160 athletes participate with separate men's and women's teams. In these sports, the teams in the industry are very strong, with many teams selected from thousands of healthy young workers, so PV GAS continues to not be selected as the medal "seed". However, the efforts and persistent training, encouraged by the leaders have proved "determination to achieve achievements" for PV GAS. Tennis continued to win big with 3 gold, 1 silver, 3 bronze medals and had a happy record when the final match was a match between 2 pairs of all PV GAS matches. In other competitions, PV GAS is never empty-handed, so the name on the podium to receive awards is often PV GAS. An unforgettable highlight named PV GAS is: The PV GAS fan team is very passionate but cheerful, respectful and fairplay. Cheering flags, vibrant drums and trumpets resounding in each arena, cheers of encouragement and friendly faces – all have created a happy and effective cheering group, making the Oganizers to deliver PV GAS the Most Impressive Fans Team award.
The most special of each reunion is the King sport – Football, on the field of Southern Oil and Gas Industry Festival 2022, PV GAS team also flashed like a beautiful phenomenon. With the journey to create new records on the 6-player football field of PetroVietnam, when they won against other teams with… super scores: 14-0, 17-1…, PV GAS men are also loved for disciplined, calm, professional and dedicated playing style. Unfortunately, having to receive silver in the great final match, overwhelming competition and giving up in the free kick series, but PV GAS football team still won the appreciation and love of the fans, showing great potentials in Tu Hung tournament that will take place soon with the participation of 4 teams present in the finals in 2 regions of Oil and Gas Industry Sports Festival 2022. The team also received 2 more individual awards: Best Goalkeeper and Golden Shoe.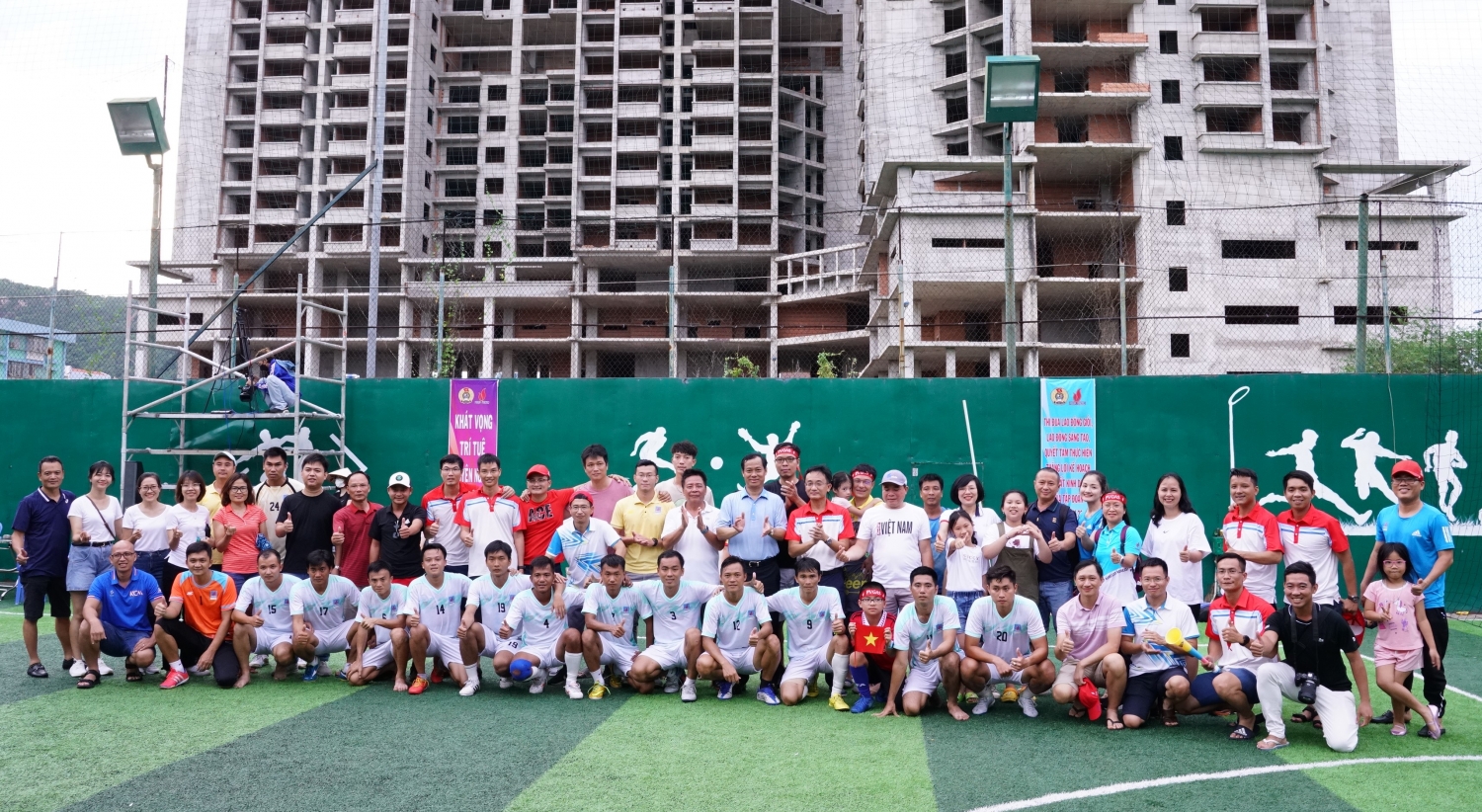 Congratulations to PV GAS football team on receiving the Second Prize and 2 individual prizes of the Sports Festival
At the end of the impressive and attractive 2022 Southern Oil and Gas Industry Sports Festival, PTSC Team won the first prize of the whole team. PV GAS, VSP, and PVFCCo all received the second prize. 5 teams won the Third prize and 5 teams won the Consolation prize. All athletes and fans remember a great sports field, have good competition records, have the joy of sharing to support Oil and Gas workers in their efforts to do good jobs; contribute widely to propaganda about the joyful and impressive Petroleum Sports Festival.
Congratulating the PV GAS team for their outstanding achievements at the Sports Festival, Mr. Tran Xuan Thanh – Chairman of PV GAS Trade Union affirmed that this joy is shared equally among all athletes and the entire PV GAS Trade Union. He expressed his deep gratitude to the Leadership of PV GAS and other units for supporting employees with conditions to train, compete and strive for the spirit of PV GAS. The Chairman of PV GAS Trade Union also promised his determination to raise and expand the PV GAS sports movement, for the health of employees and for the joy of solidarity that has been emphasized and spread from the Sports Festival, honoring the culture of "The fire seekers".
P.V