Vung Tau Gas Processing Company (KVT) has just cooperated with Maritime Human Resources and Training Company Limited (UT-STC) – a cooperation between University of Transport in Ho Chi Minh City and STC Group – the world's leading simulation training group (headquartered in Rotterdam, the Netherlands) organized in-depth training on receiving LNG carriers for relevant personnel in Ba Ria – Vung Ship.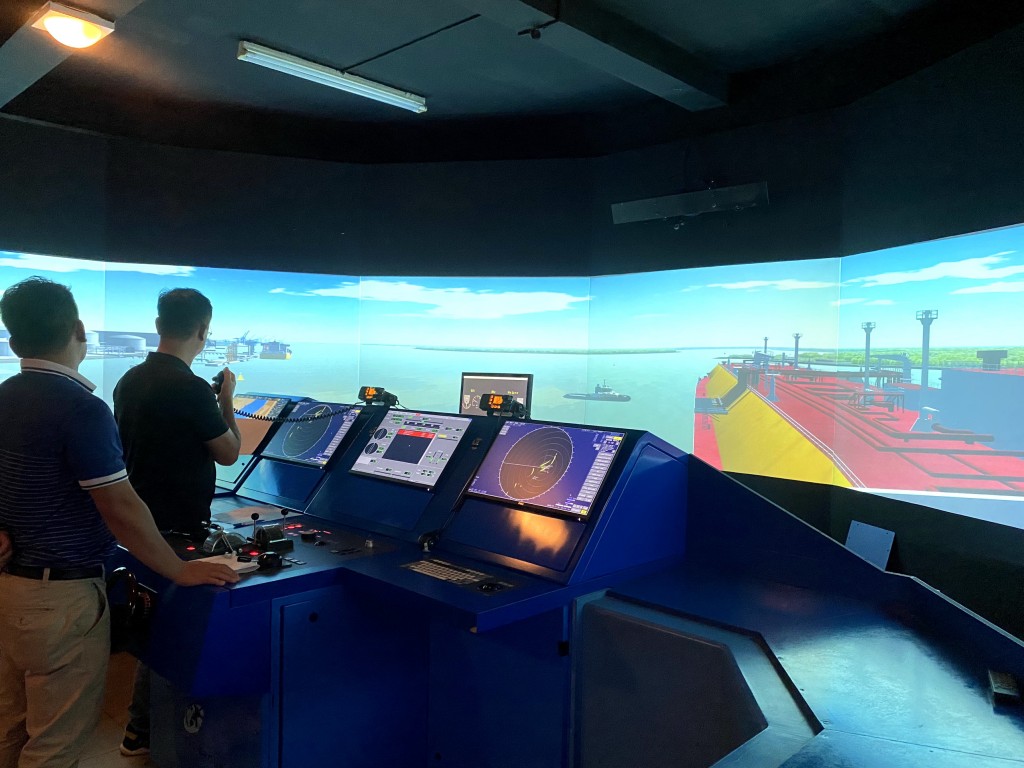 In the simulation cockpit.
In the process of negotiating with suppliers and LNG carrier owners around the world to prepare to receive the first imported LNG carrier in Vietnam, one of the issues discussed by the suppliers/ ship owners is that the local maritime personnel who will participate in receiving the incoming/departure LNG vessel need to be familiar with and undergo training to be qualified to meet the regulations and standards on international standards applicable to LNG carriers.
This is also a content to appraise and evaluate the capacity of the port to receive LNG carriers from major LNG suppliers/ ship owners in the world such as Shell, Qatar Gas, Cheniere… for PV GAS.
One of the important requirements for LNG suppliers/ ship owners to approve the delivery of ships is that the relevant marine personnel involved in receiving LNG ships must be trained and conduct full mission bridge simulation (FMBS) at Simulation Centers to evaluate the coordination between these personnel in the safe maneuvering of LNG ships to/from the port according to different situations and scenarios. Especially, when weather conditions are volatile and abnormal, the navigation channel is still operated for many different tonnage vessels.
With the current state of infrastructure for LNG import in Vietnam, which has never received an LNG vessel before, the marine personnel lack practical experience, implementation of cockpit simulation is the most solid basis to evaluate and confirm that reception of LNG ships is feasible.
Stemming from that actual requirement, KVT – the unit assigned by PV GAS to train local maritime personnel involved in receiving LNG ships, cooperated with Maritime Human Resources and Training Company Limited (UT-STC) organized a cockpit simulation course (FMBS) for outstanding pilots of Vung Tau Pilot Enterprise, Mooring Masters of MM Marine Co., Ltd., captains/vice captains of the main tugboat suppliers in the region such as: Haivanship, Vina Logistics, and Loading masters of PV GAS Vung Tau Terminal…
The simulation is built on the model of an LNG ship with a tonnage of up to 100,000 DWT that is expected to be dispatched by LNG suppliers/ship owners to the wharf built by PV GAS to be ready to receive the vessel for LNG import.
During 3 days of training, under the guidance of experts from UT-STC, the participants jointly evaluated, identified, built and successfully run simulations for more than 20 scenarios of receiving/leaving port; turning at anchorages (upstream, downstream) and at the waterfront of the port; As well as assuming difficult and unusual situations during the ship's navigation, docking/departure, turning to get the best safe handling solution for the best ship maneuvering plan.
Successfully launching and running simulations of scenarios in almost all extreme, unfavorable and normal weather conditions will help PV GAS/KVT have many options to successfully receive LNG ships and exploit efficiency of PV GAS's 1 MMTPA LNG warehouse in the near future.